Backyard war drills: Latvian man releases video of NATO exercises on private property (VIDEO)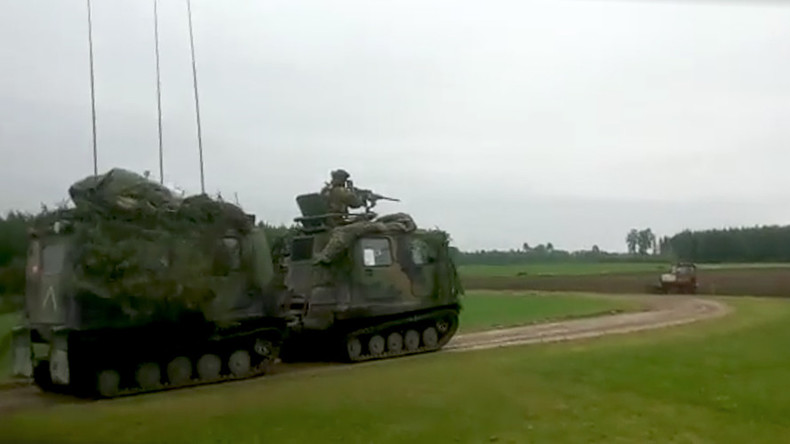 Waking up to see military hardware rolling on the lawn right outside your door – no, it's not a movie set, it's a Monday morning in Latvia. A video of the "early morning exercises" was posted on Facebook.
"Dear people, what would you say if, without any warning, a column of military hardware showed up on your land?" Kristaps Ozolins who lives near Riga wrote on Facebook when releasing the footage.
He describes in detail how the NATO drills took place right on his lawn.
"And after a while, a shootout began? Has war started? No, this is NATO training! That's what I call a stressful Monday! Can it really be the case that it's not necessary to agree on such things with the landowners?" he wondered.
Ozolins later clarified the situation in an email to RT, saying that the property where the vehicles were filmed, in fact, belongs to his "family friends." They preferred to remain anonymous, however, so he released the video on his Facebook page. He added that he wasn't against NATO military exercises himself.
"The Latvian Army has already apologized about the fact that there was no agreement to use this property," he said.
The drills were apparently a part of operation Saber Strike, which is described by US Army Europe as "a multilateral, multifaceted, security cooperation exercise primarily focused on Baltic States."
The exercises, which began on May 28, are to proceed at multiple locations in Estonia, Latvia, Lithuania, and Poland till June 24.
READ MORE: NATO military drills gather hundreds of troops in Latvia (VIDEO)
According to the military statement, the drills in Latvia are to include "a maritime prepositioned offload of pre-staged supplies and equipment" and "a Marine amphibious assault."
Ozolins is not the first to share videos of NATO tanks in Latvia. Another resident posted two videos from the village of Zakumuiza, some 23 kilometers from Riga. That footage features NATO vehicles in the forest and the sound of an artillery 'cannonade'.