'Russia will not let itself be turned into caliphate' – Putin on fighting ISIS in Syria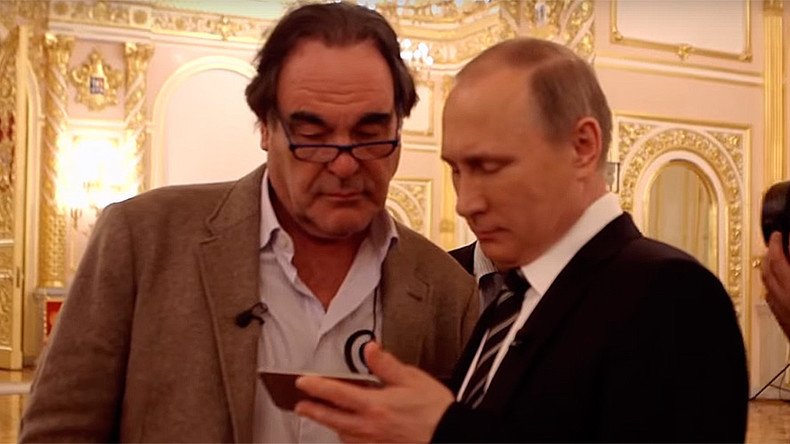 Over a third of the jihadists in Syria are foreign mercenaries, who include Russian nationals, Vladimir Putin told Oliver Stone, adding that, while Russia wants to work with the US in the fight against Islamic State, it won't compromise its own security.
Commenting on Russia's military engagement in Syria, the Russian president highlighted the stark difference in the scope of the operations carried out by the US-led coalition and those conducted by the Russian Air Force at the height of Russia's involvement in the anti-terrorist campaign.
Putin said, at one point, Russian jets carried out "an average 70-120 strikes per day," while "the entire international coalition led by the United States [conducted] two, three, five strikes per day."
"There is a difference. Everyone sees it," Putin noted.
Moscow has repeatedly stated that its primary goal in Syria is to ensure that the jihadists who came to fight for Islamic State (IS, formerly ISIS, ISIL) will not return to Russia and employ their battleground experience to carry out attacks.
"Thousands of militants from the former Soviet Union and from today's Russia are fighting there [in Syria], and they can return to us, and we cannot allow it. All this together led us to the actions that you know about [the anti-terrorist campaign in Syria]," Putin said.
The Russian leader said some 30,000 of the 80,000 terrorists operating in Syria are foreign fighters that come "from 80 countries, including Russia," Putin said.
In April, Russia's National Security Council estimated that some 2,700 Russian citizens from the country's predominantly Muslim North Caucasus republics have gone to Syria and Iraq to become jihadist militants.
READ MORE: Russia's goal in Syria is to ensure national security – PM Medvedev
Nevertheless, talking about the roots of Islamist extremism, Putin argued that "no world religion can be a source of evil." He also said he believes the "divisions" that are currently "running deep" between Sunnis and Shiites are reconcilable.
"I think they will eventually overcome them," he told Stone. When asked if Moscow could someday become part of a caliphate, Putin said that Russia "will not allow this to [happen]."
Russia is ready to lend support to Sunni groups fighting IS and Al-Nusra Front, Putin said, adding that Damascus "agrees with that, in principle."
Commenting on the Syrian government, Putin said "we are perfectly aware of the fact that the current leadership in Syria made certain mistakes in building relations within its own country," but added that President Bashar Assad acknowledges that Syria has "many problems" and is open to drawing up a new constitution with the participation of opposition groups and holding the country's next presidential elections under international supervision.
Noting that it is impossible to settle the Syrian conflict without the full-fledged cooperation of all interested parties, including Russia, the US, regional powers such as Saudi Arabia, Jordan, and Egypt, Putin said that Moscow's priority is not to "ferment the conflict" but to establish a dialog between the opposition and the Syrian government in order to prevent the country from splintering.
READ MORE: 'Nobody would survive': Putin to Oliver Stone on 'hot war' between Russia & US
"It's very difficult. It's difficult to reach a consensus, but direct contact with both sides gives us such a chance. And in general we achieve success," Putin said, noting that Moscow "acts very carefully" so as not to unravel the fragile progress that has already been made.
On Wednesday, the US Senate approved a measure imposing additional sanctions on Russia, while branding the country's activities in Syria as "continuing aggression."
Commenting on NATO, Putin noted that "when NATO comes into this or that country, the political leadership of that country as a whole along with its population has no influence on decisions NATO takes, including the decisions related to stationing the military infrastructure."
The military alliance presents Russia "an alleged external menace that can only be tackled with US help," president said, while noting "but very soon everyone is going to understand that there is no threat whatsoever emanating from Russia either to the Baltic states or to Eastern or Western Europe."
"And the stronger this understanding grows, the greater the desire to protect their [European] sovereignty and to protect their national interests is going to be. I assure you, this constant pressure makes no one happy, so sooner or later this is going to have consequences and eventually going to stop. And it's better if this happens through dialogue," he said.
You can share this story on social media: