'Nobody would survive': Putin to Oliver Stone on 'hot war' between Russia & US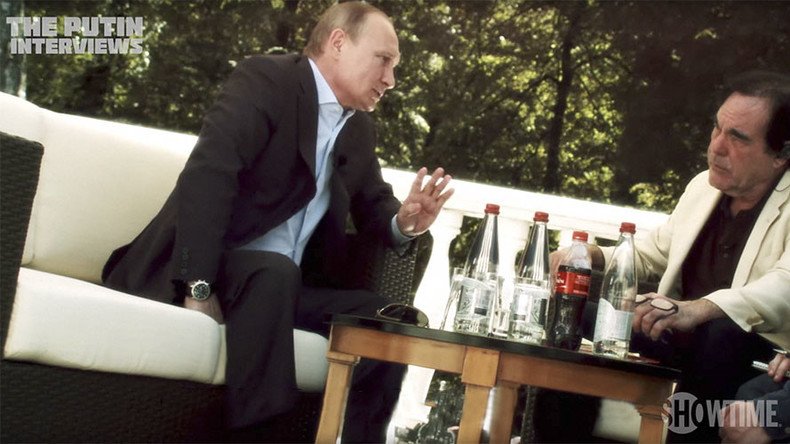 No country on earth would survive should the world's most powerful nuclear states unleash their atomic weapons, Vladimir Putin has said. His remarks form part of a series of interviews with American film director Oliver Stone.
The question of whether the human race would survive a potential global nuclear war has tormented the minds of generations, and indeed Stone, who wondered if the Russian president believes the US might emerge victorious if such a conflict were to break out.
"In a hot war is the US dominant?" the American director asked the Russian president.
"I don't think anyone would survive such a conflict," Putin replied in a short Showtime teaser, a precursor to a documentary titled 'The Putin Interviews' that will be aired next week.
Putin then proves he has the pulse on Russia's military strategy and tactics. As part of the preview, the clip shows Stone and Putin in the situation room where the Russian leader demonstrated that he is on top of developments playing out in the Syrian military theater.
"Pilot says he is going to make another attempt," Putin tells the US director while showing him a live feed from a military jet on a smartphone.
READ MORE: Putin gives Oliver Stone a lift, says Snowden not a traitor, but 'what he did was wrong'
Stone then asks if there's "any hope of change" in US-Russian relations, which both countries have acknowledged are at the lowest point since the Cold War.
"There is always hope. Until they are ready to bring us to the cemetery and bury us," Putin replied.
Apart from the teaser, Showtime has also uploaded two separate interview segments that touched on Russia-NATO relations and the numerous assassination attempts on the Russian president.
Describing NATO an an instrument of American foreign policy, Putin said the alliance's members inevitably become US "vassals."
READ MORE: Putin to Oliver Stone: I suggested Russia joining NATO to Clinton, he 'didn't mind'
"Once a country becomes a NATO member, it is hard to resist the pressures of the US. And all of a sudden any weapons system can be placed in this country. An anti-ballistic missile system, new military bases and if need be, new offensive systems," Putin explained.
Russia, Putin says, is forced to take countermeasures over the ever-increasing NATO threat and armed military build-up on Russia's borders.
"We have to aim our missile systems at facilities that are threatening us. The situation becomes more tense," Putin said.
In the third clip, published Tuesday by Showtime, Stone claimed he had credible information that the Russian leader survived at least five assassination attempts, which Putin implied were successfully thwarted by his security team.
"I do my job and the Security Officers do theirs, and they are still performing quite successfully," Putin said, adding, "I trust them."
Recalling a Russian proverb, Putin told Stone that "those who are destined to be hanged are not going to drown."
READ MORE: 'It's very important we hear what Putin has to say' – Oliver Stone
"What is your fate sir, do you know?" Stone asked.
"Only God knows our destiny – yours and mine," the President replied.
"One day, this is going to happen to each and every one of us. The question is what we will have accomplished by then in this transient world, and whether we'll have enjoyed our life?"
You can share this story on social media: