#1917LIVE: Deposed Tsar Nicholas II advocates for continuing war in Twitter Q&A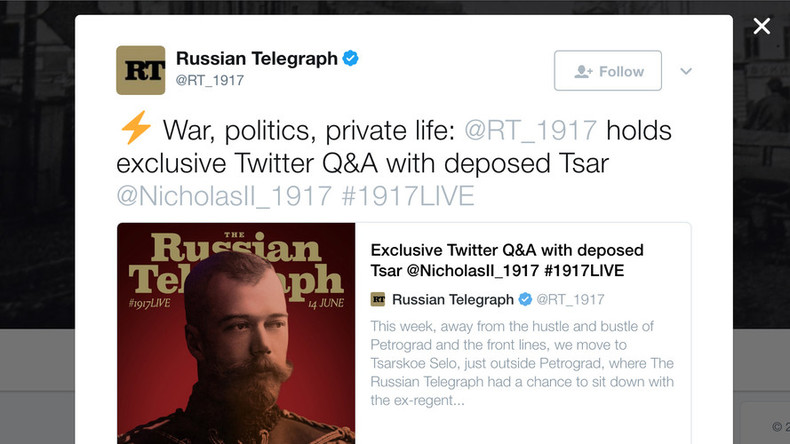 As the Russian revolutionaries are busy forging a new country, Tsar Nicholas II spends his days quietly under house arrest. The Russian Telegraph got a chance to sit down with the ex-regent, and even included some of your own #1917CROWD questions.
The Russian Telegraph (RT) is a fictional media outlet, part of the #1917LIVE project, which relives the events of the Russian Revolution through the experiences of its main actors and witnesses. This week, away from the hustle and bustle of Petrograd and the front lines, we move to Tsarskoe Selo, just outside Petrograd. There, Nicholas II, who recently stepped down in favor of the Provisional Government, spends his days pondering his fate and enjoying family life with his five children.
It was painful to leave country to its fate. Now I have much more free time, but I'm busy setting my papers in order #1917LIVE

— Nicholas Romanov (@NicholasII_1917) June 14, 2017
The former regent does not regret stepping down as much as some may have thought. Those who heard his final address will remember that the Provisional Government was a better outcome in his view, as opposed to total anarchy.
READ MORE: #1917LIVE: War Minister Alexander Kerensky talks duty & freedom in Twitter Q&A
Regarding his current life, Nicholas II is happy the new authorities showed a great degree of leniency toward his clan, which – let's not forget – is almost universally despised by the Russian people for its haphazard ruling style, not to mention dragging the country into a war no one wanted.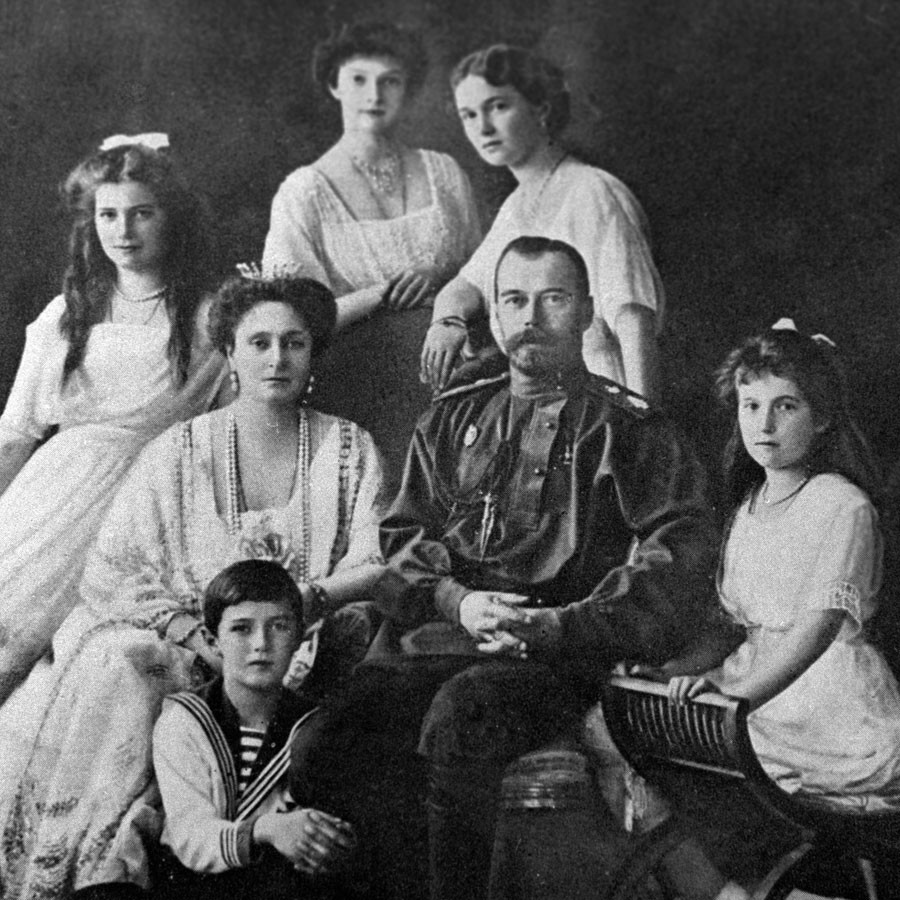 Nicholas continues his unveiled support of the Provisional Government's policies, which closely match his own. His words resemble the rhetoric of current War Minister Alexander Kerensky, who is currently readying a decisive offensive against the enemy.
It should then come as no surprise to our readers that the deposed Tsar strongly advocates for Kerensky and his pro-war, anti-Bolshevik agenda.
Nicholas exhibits a certain detached attitude when questioned whether his policies had benefited the country. The former monarch alludes to divine providence that guided his rule and eventually landed Russia in its current state, for better or worse. Similarly, he also believes himself innocent before God regarding the events of 1905 and 1917, pertaining specifically to orders he had allegedly overseen to open fire on a crowd of protesters. Nicholas insists that no such orders were given by him.
READ MORE: #1917LIVE: Lenin talks socialist revolution in 'real-time Q&A' on Twitter
The Russian Telegraph also received a number of questions our readers wanted to put to Nicholas II. We've selected the most interesting ones below.
What do you think about your marvellous country becoming a bolshevik dictatorship?
God bless you and may you live forever.
Vive le Roi.

— Rels (@BenitoRels) June 13, 2017
Had someone told you that in a few years after abdication millions would die and country'd be ruined, what would you have done differently?

— VI (@highr0llerr) June 13, 2017
I know that you care about 🇷🇺 like no other. But as 2 months passed do you regret your decision to sign the abdication? #1917LIVE#1917CROWD

— Princess Olga Paley (@OlgaPaley_1917) June 13, 2017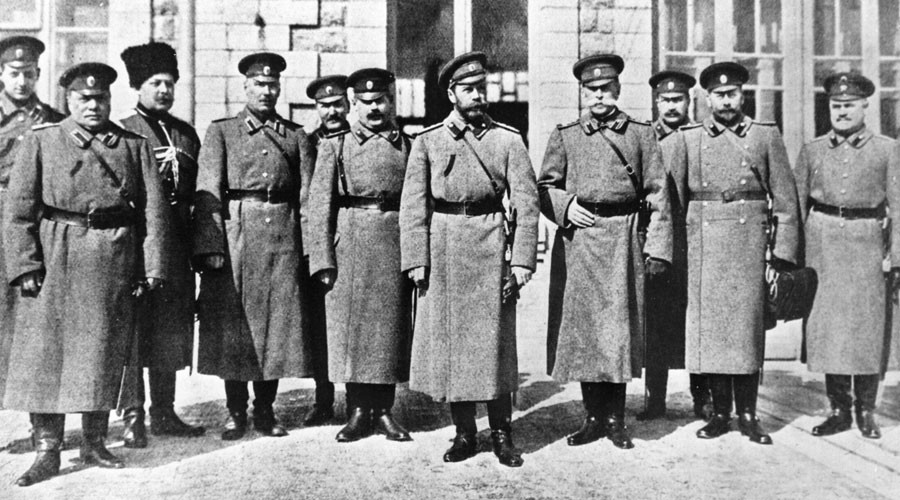 Q: Mr. Romanov, do you have faith in the @ProvGovt_1917 and that they will be able to provide and serve for the Russian people? #1917LIVE

— Raymond Poincaré (@RPoincare_1917) June 13, 2017
Stay with RT and #1917CROWD to find out how Nicholas II's fate will transpire. We are almost exactly halfway through the Russian Revolution, so we still have a lot of ground to cover. A special thanks goes out to all our Twitter project members for staying in play and keeping the spirit alive.