Ramadan prayers at site of Virgin Mary statue trigger outrage in Spain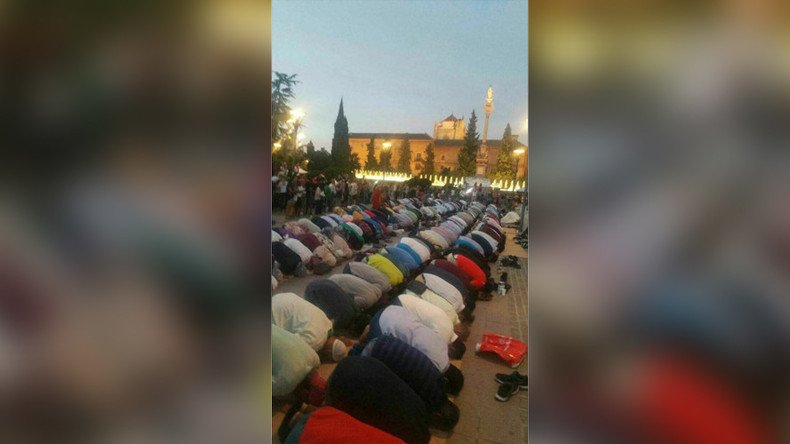 A Muslim prayer gathering at the site of a Virgin Mary statue has sparked outrage among politicians in the Spanish city of Granada, with a far-right party calling on Catholics to respond with a "night of prayer" at the same site.
The controversial gathering took place on Saturday evening, when dozens of Muslims prayed together in Jardines del Triunfo (Gardens of Triumph) park before breaking their daily Ramadan fast.
READ MORE: Public Muslim prayer in Munich scrapped amid fears of 'right-wing violence'
Although the event was sanctioned by City Hall and welcomed by Mayor Francisco Cuenca as an act promoting Granada as a "city of co-existence and tolerance," others took issue with the chosen location, because Jardines del Triunfo is the site of a Virgin Mary statue which is cherished by Catholics in the city.
Several politicians took to Twitter to express their outrage, including MP Luis Salvador.
"Mr. Paco Cuenca confuses tolerance and religious respect with provocation. Call for Muslim Prayers at the Virgin of Triumph??" tweeted Salvador, an MP representing Granada.
That sentiment was echoed by politician Manuel Olivares, who took to Facebook to call the city's decision "regrettable," as well as "incomprehensible" and "disrespectful." Although his Facebook post has apparently been deleted, a screenshot was captured by Granada Digital.
The far-right VOX party has called for an "act of reparation" to take place in the park on Tuesday evening, during which Catholics will recite the rosary.
In a statement cited by the Local, the party said the event is for "those who show their faith and defending the customs, values, and culture inherited from our parents."
"And to protest against the council of this municipality who, by action or omission, have given permission and consent to a symbolic public space being taken over by the Muslim community."
Meanwhile, the Partido Socialista Obrero Espanol (PSOE) councilor in Granada, Jemi Sanchez, defended the event.
"Multiculturalism can never be a threat, it is an added value," she wrote on Facebook.
"For the first time, the City of Granada supports its Muslim community wishing them a happy Ramadan in the gardens of Triumph," she wrote in a separate post. "[It is something] unprecedented that brings us closer and makes us more equal."
Sixty-eight percent of Spaniards identify as Roman Catholic, according to a 2016 report from the Center for Sociological Research. Meanwhile, a Pew Research Center poll conducted last year found that 50 percent of Spaniards surveyed viewed Muslims unfavorably.
Granada was under Islamic rule for almost 800 years, until a reconquest took place in 1492 during the reign of Catholic King Fernando and Queen Isabel.
You can share this story on social media: