Philippines targets jihadist Facebook accounts over 'lies & misinformation'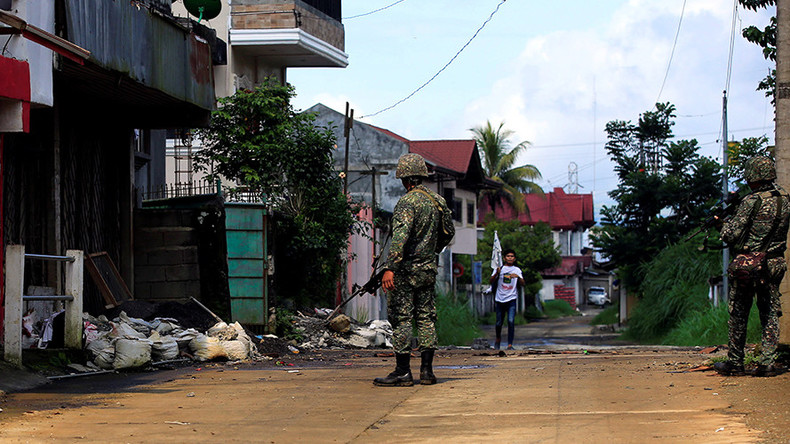 The Philippines army is calling on Facebook to shutter dozens of accounts it claims are used by Islamist militants to spread misinformation and propaganda about the ongoing battle for Marawi City in the south of the country.
The military believe a total of 63 Facebook accounts are being used by the Maute local terrorist group and its sympathizers.
"They are spreading lies, they are spreading misinformation and they are creating more problems in our fight against the terrorists," spokesman Lieutenant Colonel Jo-Ar Herrera told a news conference in Marawi Friday, according to Reuters.
At least 200 militants and an estimated 500 to 1,000 civilians are still trapped in the city 18 days after the initial attack. The city has been heavily bombarded throughout the ongoing siege, with renewed bombing raids taking place Friday.
"Part of what we are looking at is radicalization in social media. This is used to radicalize the youth," Herrera said. "We see massive misinformation and use of social media to facilitate propaganda activities."
Foreign fighters are known to have joined the Maute insurgents, including Malaysians and Indonesians, as well as several Middle Eastern nationals.
So far, 138 militants, 40 security personnel and 20 civilians have been killed in the fighting.
"Our Community Standards do not allow groups or people that engage in terrorist activity, or posts that express support for terrorism," Facebook said in an emailed statement to Reuters. "Fake accounts are also prohibited. We will remove accounts and content that violate these policies when we are made aware of them."
The government pledged to bring the fighting to a swift conclusion following the implementation of martial law.
Read more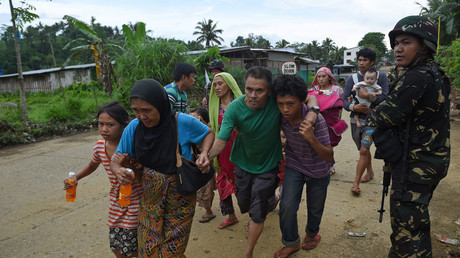 "The chief of staff made an announcement, hoping, that by Monday we can freely wave our flags in every corner of Marawi and we are working feverishly to do that," said military spokesman Restituto Padilla.
Meanwhile, authorities are investigating several lawmakers and opposition leaders amid accusations of sedition.
Justice Secretary Vitaliano Aguirre II issued Department Order 385 officially launching a probe into an alleged plot by senators and opposition leaders.
"The National Bureau of Investigation, through Director Dante A. Gierran, is hereby directed and granted authority to conduct an investigation and case build-up over the alleged destabilization plot against the government of the Republic of the Philippines by some senators and other opposition leaders," the order said.
The investigation may be a diversion, however. Aguirre was caught in a fake news scandal when he claimed opposition leaders met with Maute forces in Marawi, using a years-old photo as the basis for his accusations. The photo was widely shared on social media before he claimed he was misquoted by the media.
"As recorded in our videos and voice recorders and even in our Facebook Live coverages, we quoted Secretary Aguirre verbatim and only reported the facts to our viewers and readers — including the fact that he showed a photo from his mobile phone supposedly showing the meeting between the senators and Muslim clans in Marawi last May 2," the Justice and Court Reporters Association said in a statement as cited by the Philippines Star.
The Philippines Supreme Court will debate a petition filed by opposition lawmakers to nullify the declaration of martial law on June 13.