Beijing, Washington flex muscles in South China Sea with separate air & navy exercises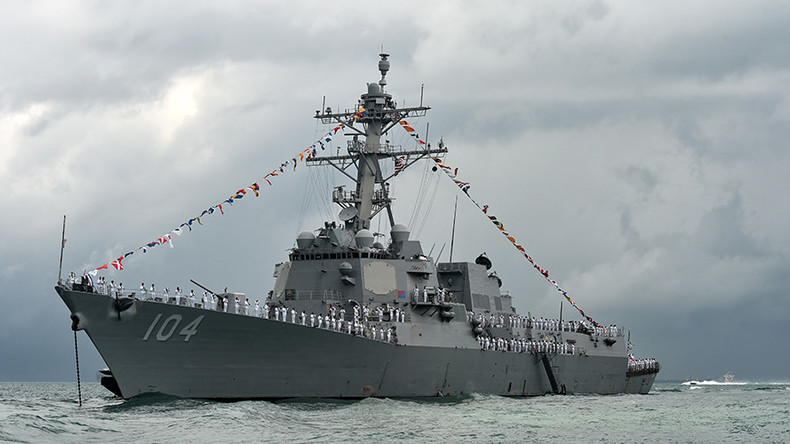 China and the US have both held exercises this week involving air and navy forces, in the latest episode of confrontation over the disputed South China Sea.
The US sent two B-1B Lancer supersonic bombers to fly a 10-hour mission from the Andersen Air Force Base, Guam, the US Pacific Command said. The drill was conducted Thursday over the South China Sea in conjunction with the US Navy's Arleigh Burke-class guided-missile destroyer the 'USS Sterett.'
Beijing said on Friday it was monitoring the exercise.
"China always maintains vigilance and effective monitoring of the relevant country's military activities in the South China Sea," the Chinese Defense Ministry said in a statement. "China's military will resolutely safeguard national sovereignty, security and regional peace and stability."
Earlier on Monday, the Chinese People's Liberation Army (PLA) conducted its own air and navy exercise off Hong Kong. The patrol mission involved three helicopters and two Type 056 corvettes, the 'Qinzhou' and the 'Huizhou', the Defense Ministry reported.
The warships from the Ngong Shuen Chau naval base passed through the city's Victoria Harbor and headed east through the East Lamma Channel off the south-western part of Hong Kong Island. The helicopters were deployed by the Shek Kong Airfield in the mainland part of the city.
The exercises come a week after the US launched its first "freedom of navigation" mission in the South China Sea under the Trump administration. The patrol by the 'USS Dewey,' which is in the same class as the 'Sterett,' saw the American warship sail within 12 nautical miles of the Spratly Islands in a gesture intended to defy Chinese claims over them.
Beijing criticized the US for what it saw as a violation of Chinese sovereignty over the islands and demanded that the US Navy destroyer leave the area.
China claims sovereignty over a large part of the South China Sea, a region crucial for China's maritime trade. Several other nations in the region have competing claims for various parts of the sea, while the US insists that the contested waters should be designated international and thus not under any nation's control.