Canada to increase defense spending by 73% over next decade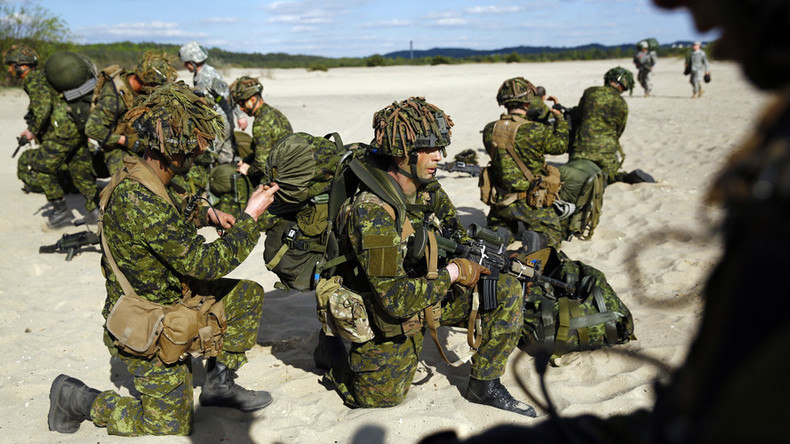 Canada has announced it will increase its defense budget by 73 percent over the next decade, raising its budget to US$24.2 billion. It comes after US President Donald Trump challenged NATO countries to meet the bloc's defense spending target.
Details of the plan were announced by defense minister Harjit Sajjan and transport minister Marc Garneau during a Wednesday news conference in Ottawa.
According to Sajjan, Canada's overall defense budget will jump by almost three-quarters over the next 10 years, reaching $24.2 billion in 2026/27 – a significant increase from $13.9 billion in 2016/2017.
He said the boost will bring total defense spending to 1.4 percent of GDP by 2024/25, up from 1.2 percent currently.
"If we are serious about Canada's role in the world, then we have to be serious about funding our military," Sajjan said, as quoted by CBC. "And we are."
He said Canada will hold an open competition to buy 88 advanced fighter jets to replace its aging fleet of 77 CF-18 planes.
The government also intends to fund the construction of 15 advanced warships which will eventually replace existing vessels.
In addition, the air force will receive new armed drones for surveillance and combat, as well as replacements for its CP-140 Aurora surveillance planes which are nearly four decades old.
The military will also get more cyber operators who, under government supervision, will have the authority to conduct online disruption operations against potential threats.
The plan also envisages a small increase in the size of the military, both regular and reserve forces. There will also be a slight increase in the size of the special forces.
However, the country's navy will not be receiving a new submarine fleet. The new defense policy recommends modernizing the existing fleet and using them until 2040 instead of purchasing new ones.
The announcement follows pressure on Canada and other NATO states to meet the military alliance's spending benchmark of two percent of GDP.
However, according to the numbers provided by Sajjan, Canada will still not be meeting the NATO requirements in 2024/25.
NATO welcomed Canada's announcement on Wednesday, regardless.
"This new policy affirms Canada's unwavering commitment to NATO and will ensure Canada has the armed forces and key capabilities that the alliance needs," NATO secretary-general Jens Stoltenberg said in a statement.
"...In these challenging times, Canada's commitment to the alliance is important as we work to keep our nations safe and NATO strong."
Only five countries of the 29-nation NATO alliance – the US, Britain, Greece, Poland, and Estonia – currently meet the spending target of two percent of GDP.
The latest US figures put America's defense spending at 3.2 percent of GDP.