'Swept up in post-coup purge': Head of Amnesty International Turkey arrested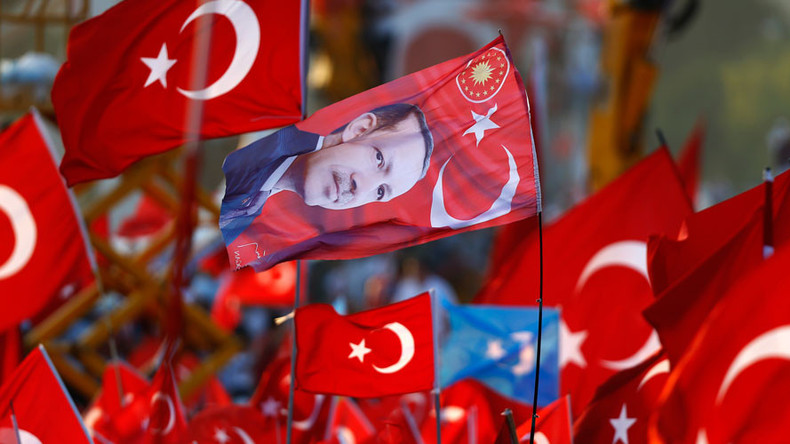 The head of Amnesty International Turkey has been arrested by the authorities over suspected links with exiled cleric, Fethullah Gulen, whom Ankara blames for a failed 2016 coup, the group said. It added that Taner Kilic was "swept up in the post-coup purge."
Kilic, the chair of Amnesty International Turkey, "was detained from his house in [the city of] Izmir at 6:30 this morning [Tuesday] before being taken to his office. Both properties were searched. He is currently in police custody in Yesilyurt district of Izmir," Amnesty International said in a statement.
According to the group, Kilic's detention "does not seem to be connected to any of Amnesty International's work, nor to be specifically targeting the organization."
"The detention order refers to an investigation into suspected members of the 'Fethullah Gulen Terrorist Organization'. It is currently unclear why Taner Kilic is suspected of having these links," the group said, adding that Kilic was "swept up in [Turkey's] post-coup purge."
Amnesty called upon Turkish authorities to "immediately release" and "drop all charges against" their employee and other 22 lawyers who were detained alongside Kilic. The group said that there was "absence of credible and admissible evidence of their involvement in internationally recognized crimes."
"The fact that Turkey's post-coup purge has now dragged the chair of Amnesty International Turkey into its web is further proof of just how far it has gone and just how arbitrary it has become," Salil Shetty, Amnesty's secretary-general, said.
Shetty added that Kilic "has a long and distinguished record of defending exactly the kind of freedoms that the Turkish authorities are now intent on trampling."
Kilic is not the first to be accused over alleged links with Fethullah Gulen, once an Erdogan ally, who is now living in self-imposed exile in Pennsylvania.
Gulen leads the popular Islamic transnational religious and social movement called Gulen movement or Hizmet, believed to be funding numerous businesses, think tanks, private schools, and publishing houses around the world.
Turkish President Recep Tayyip Erdogan accused the cleric and his group of masterminding the failed coup in Turkey on July 15, 2016. Ankara has repeatedly demanded his extradition to investigate his alleged participation in the coup attempt. However, the 74-year-old has denied any involvement.
More than 100,000 public sector workers were fired from their jobs, including teachers, journalists, security personnel and army officers, according to Amnesty data from March.