Russian missile cruiser Varyag makes historic port call in Hong Kong (VIDEO, PHOTOS)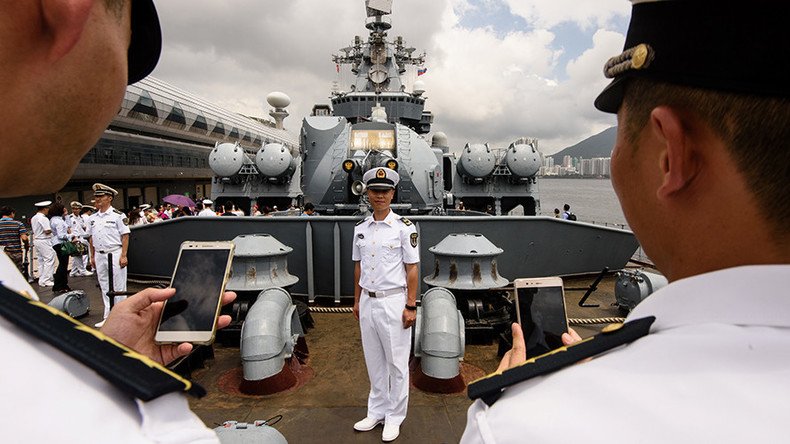 Russia's navy group has made a historic port call in Hong Kong, the first in decades. The Varyag guided missile cruiser was open for visitors for a day and attracted large crowds, including Chinese sailors and civilians.
The guided missile cruiser Varyag and the ocean tanker Pechenga, both based with the Russian Pacific Fleet in Vladivostok, made the unofficial port call at the Kai Tak cruise terminal on Monday.
It's the very first visit of Russian military vessels in modern Hong Kong history, the South China Morning Post reports.
The Varyag was open for visitors Monday and a significant number of people turned up to tour the ship with long queues forming at the terminal, according to TASS news agency.
Chinese sailors as well as civilians and Russian nationals residing in Hong Kong flocked to the ships to see the military hardware and take photos of the historic port call.
Russian sailors met Chinese military officials and Russia's General Consul in Hong Kong and also took in the sights of the city.
"The main objectives of the visit are development of military naval cooperation with the People's Republic of China, including the Hong Kong Special Administrative Region, as well as rest for the crew," the Varyag cruiser Commander, Captain 2nd Rank Alexey Ulyanenko told TASS.
"Russian sailors are doing their best to strengthen friendship, partnership and cooperation between the people of our countries in the best interests of peace and security in the region."
Hong Kong is the final stop for the navy group before returning to Vladivostok from a two month long voyage, according to Ulyanenko. The vessels are due to leave port on Tuesday. The ships might visit other ports in China and Japan on their way home but the crew had not yet received any order to that effect, the captain added.
During the expedition, which began on April 1, the two ships visited Busan in South Korea, Manila in the Philippines, Cam Ranh Bay in Vietnam, Sattahip in Thailand, Changi in Singapore and Tanjung Priok in Indonesia. The main objective of the mission was to underline Russia's presence and strengthen ties with countries of the Asia-Pacific region.
You can share this story on social media: