'Missile attack imminent': Evacuation drills held in Japanese town over potential N. Korea strike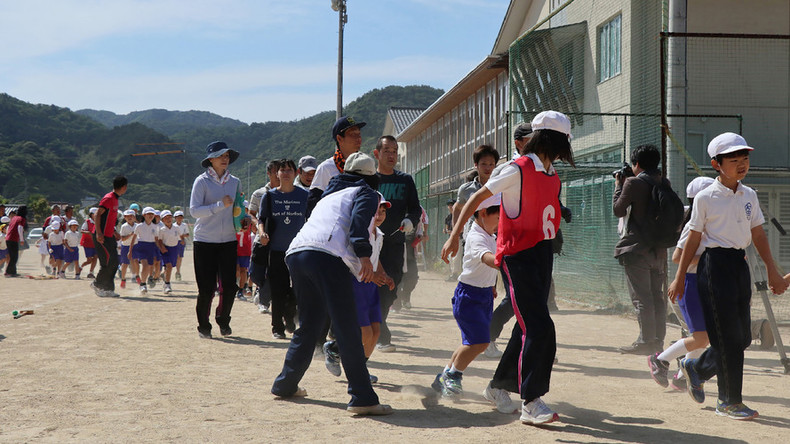 Dozens of schoolkids and residents of Abu, a small coastal town on the Sea of Japan, were rushed to safety as part of evacuation drills Sunday after being warned that a ballistic missile was approaching and its wreckage would likely rain on them.
Some 280 people involved in the drills were alerted to a potentially devastating missile launch through loudspeakers as blaring sirens stunned schoolchildren playing outside a local elementary school.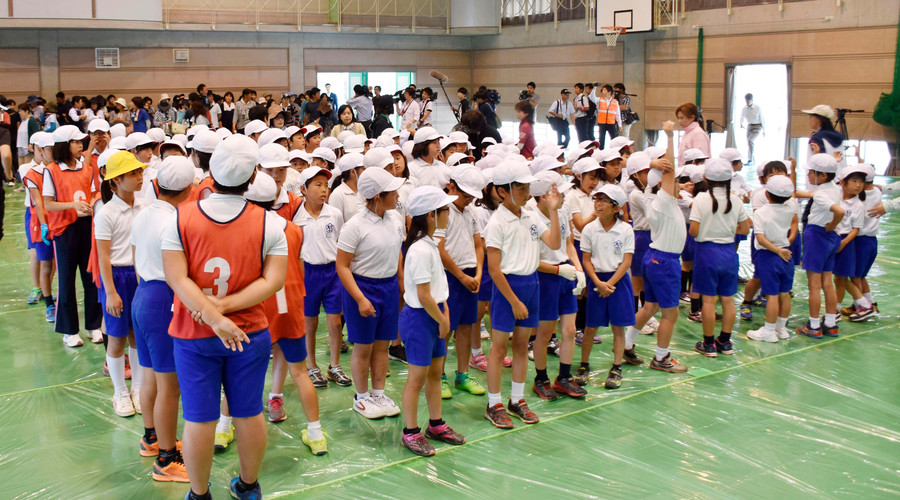 Following the announcement, the evacuees were accompanied to a school's gymnasium, where they were to stay during the attack.
According to the scenario of the imaginative strike, the missile was set to fall in the rocky terrain of the Yamaguchi Prefecture where the town with some 3,400 residents in located, Jiji Press reported.
READ MORE: US missile interceptor system won't stop N. Korean 'shower of nuclear strike' – KCNA
The drills purported to test the means of emergency communication and to ensure that in case of a real-life attack everybody would find their way to a designated shelter. The exercises were held at the behest of the Japanese government, the fire service and disaster management agency, as well as the local prefectural and town authorities.
"I was able to stay calm and evacuated in a few minutes," Yuriko Suewaka, a local resident, told AFP.
"It was a good way to understand how to evacuate," Ono, a schoolchild's parent, told Reuters, noting however that the drills came as a surreal experience for him.
"It didn't feel very realistic," he added.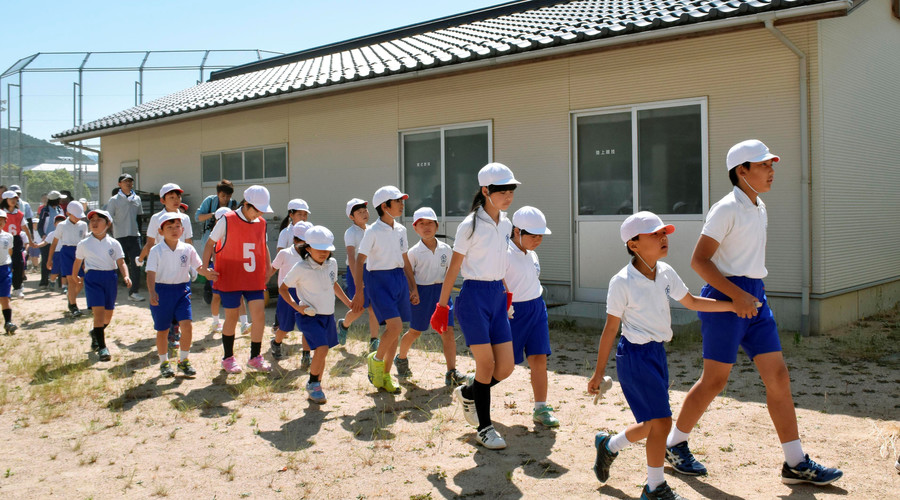 Meanwhile, the Japanese government seems to be treating the threat stemming from Pyongyang's ever-expanding missile outreach with all seriousness. It reportedly ordered cities and towns that are most vulnerable to missile attacks due to them being located on the coastline to be ready to stage similar civil defense exercises. The next set of drills are expected to be hosted by the Yamagata and Niigata prefectures, an unnamed official told AFP.
READ MORE: US calls North Korea 'clear & present' threat, urges China to deal with Pyongyang
Drills aimed at raising public awareness about what to do in case of a missile strike first took place in March in the northeastern city of Oga, Jiji Press reported. Last month, Japan authorities told citizens that they would be notified of an imminent missile attack on Japan 10 minutes prior to the projectile hitting the country, as it is estimated that no more than 10 minutes is needed for a ballistic missile from North Korea to reach Japanese territory. For citizens to be better prepared for such a turn of events, the government has also published a guide on protection against "armed attacks and terrorism."
On Sunday, the evacuation drills were also reportedly conducted in the area of Onojo in southern Fukuoka Prefecture, although without federal government being involved.
Experts, however, cast doubt on effectiveness of the drills in practice.
Read more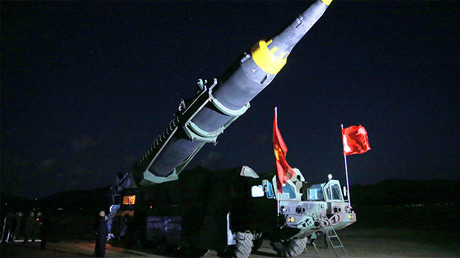 "It's hard to say how many people will be saved and how much effect it will have," retired Vice Admiral Yoji Koda told Reuters, arguing that while it's unclear how many people will benefit from them at the end, "the survival rate will definitely be higher."
With tensions running high in the region, the situation has flared up even more with Pyongyang's firing of a short-range ballistic missile into Japan's exclusive economic zone on May 28. On Tuesday, the US successfully conducted a ballistic missile interceptor test. While Washington argued that the test was planned "years in advance," North Korea decried it as a "risky act" that implies US "preparations for unleashing a nuclear war" against the reclusive state, vowing to continue development of its nuclear and force. It was followed by major war games in the Sea of Japan, involving two US strike groups and two Japanese destroyers.
At the meantime, Washington stepped up its calls to China to take greater responsibility for containing its defiant ally, calling North Korea a "clear and present danger" to the US. After the UN Security Council unanimously extended sanctions against North Korea in its resolution on Friday, Pyongyang vowed to "not flinch from the road to build up nuclear forces," accusing the US and China of conspiring to draft the resolution "in the backroom at their own pleasure."