More than 30 bodies found at Resort World Manila following attack & fire – police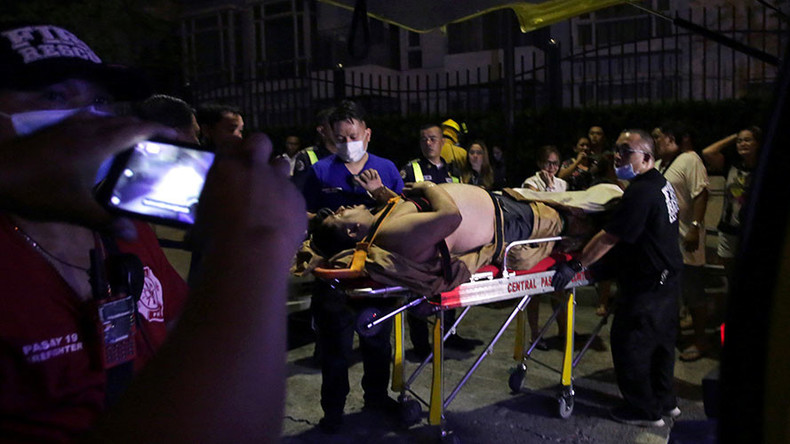 At least 36 bodies were found in the Resort World Manila leisure complex after gunman started a fire there, causing mass suffocation, Metropolitan Manila police chief Oscar Albayalde said. Philippines police are treating the attack as a botched robbery.
Most of the victims are believed to have suffocated in the smoke, which filled the building after the unidentified gunman used a canister of gasoline to start fire at the casino earlier on Thursday night. The gunman, armed with an assault rifle, was probably trying to steal casino chips, Philippines police chief Ronald dela Rosa told media.
The attacker has reportedly been described as a tall, English-speaking man with a pale complexion.
The police chief said that the suspected gunman was later found dead in a hotel room after apparently committing suicide.
"He burned himself inside the hotel room 510 … He lay down on the bed, covered himself in a thick blanket and apparently doused himself in gasoline," dela Rosa said.
Meanwhile, the resort's owner, Travellers International Hotel Group, Inc. said in a statement that "we have been informed of several casualties, the number and identities of whom have yet to be determined."
Panic quickly spread when the man, armed with a rifle, entered the casino, with reports describing a stampede and people jumping out of windows. More than 50 people were reportedly treated in hospitals for various injuries and smoke inhalation.
Read more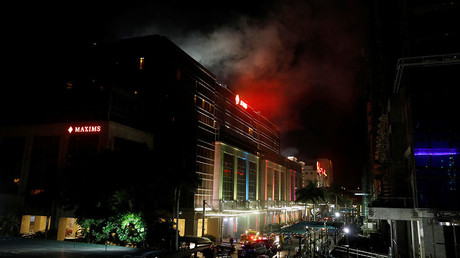 With an Islamist insurgency flaring in the Philippine city of Marawi, the initial assumption of both visitors and the media was a jihadist attack. Islamic State (IS, formerly ISIS/ISIL) militants were also quick to claim responsibility.
However, police quickly refuted the claim by suggesting the incident was a botched robbery, telling the residents "not to panic."
Presidential spokesman Ernesto Abella has ruled out a link between the casino attack and the ongoing operation against Islamist militants occupying several neighborhoods of Marawi, who are seeking recognition from Islamic State.

"All indications point to a criminal act by an apparently emotionally disturbed individual. Although the perpetrator gave warning shots, there apparently was no indication that he wanted to do harm or shoot anyone. The 34 deceased all died by suffocation," Abella said, referring to an earlier death toll.
READ MORE: Duterte insists he 'will not talk to terrorists' in U-turn on clashes in south Philippines