NATO moves 1,000s of troops in one of year's largest Europe drills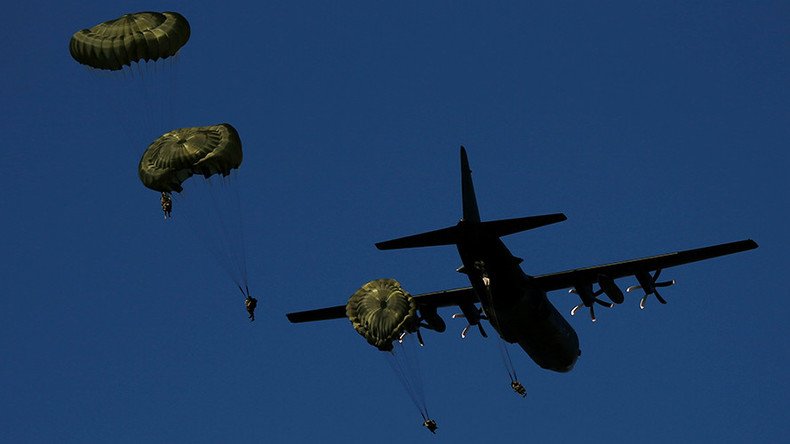 NATO allies are conducting a massive drill in southeastern Europe meant to test the alliance's ability to move large quantities of troops and equipment into the region.
Troops and vehicles from bases in the UK, Germany, the Netherlands, Spain, Poland, Norway, and Albania are to roll through or fly over Europe to the final rallying ground in Cincu, Romania, where the active phase of Operation Noble Jump 17 is to start on June 8. Some parts of the training will take part in Bulgaria and Greece as well, the Sofia Globe reported.
Of the some 4,000 allied troops taking part in the war games, 1,900 are part of the so-called Very High Readiness Joint Task Force (VJTF). Around 500 military vehicles are taking part in the drill as well.
"The exercise demonstrates results, capability and readiness all of which are critical for defense and deterrents," said British Major General Ian Cave, the director of the NATO operation.
"It also shows NATO as a responsive and capable alliance, which reassures all of our allies, all of our populations and all of our partners," he added.
The drill is one of the largest NATO has planned for this year.
NATO has boosted its presence in Europe since an armed coup in Kiev led Crimea to vote in a referendum to leave Ukraine and rejoin Russia. Kiev's Western sponsors consider the move to be an act of annexation by Moscow, and now claim Russia could use its military to directly or secretly attack nations in Europe.
In what NATO is billing as an initiative to build the confidence of its Eastern European allies, the military block is regularly staging drills on Russia's border involving troop numbers and hardware unseen since Cold War times. Officials in certain countries, including Poland and the Baltic States, also regularly brand Russia as a threat to their national security when speaking with the media and in various reports.
Russia denies having any aggressive designs on Europe and believes that NATO is trying to badmouth Russia to justify boosting defense spending in the allied nations. Moscow has also repeatedly criticized what it sees as anti-Russian hysteria spreading in Europe.
The Russian military sees NATO's continued military buildup in neighboring countries as a security threat. Moscow has responded by strengthening its own forces in the western part of Russia.
You can share this story on social media: