10 Philippine soldiers die in friendly-fire airstrike amid battle with Islamists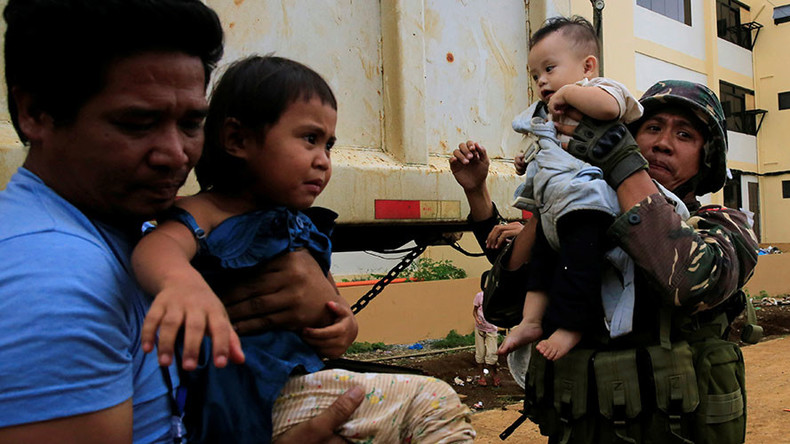 Ten soldiers were killed and eight more injured after the Philippines Air Force mistakenly struck army positions in Marawi City partly occupied by Islamist militants, the defense minister said, adding that further airstrikes might be suspended.
READ MORE: Duterte insists he 'will not talk to terrorists' in U-turn on clashes in south Philippines
"A group of our military army men were hit by our own airstrikes... 10 killed and 8 wounded," Defense Secretary Delfin Lorenzana said in a statement to the media, as cited by Reuters. "The coordination was not properly done so we hit our own people."

He suggested that "the fog of war" may have played a part in the mistake.
Lorenzana then suggested that airstrikes could be suspended as he believes the militants occupying several neighborhoods "cannot hold that long."
On Wednesday, Philippines President Rodrigo Duterte said that he "will not talk to the terrorists," referring to Islamic State-linked (IS, formerly ISIS/ISIL) Maute rebels who attempted to seize control of Marawi. Earlier, Duterte had urged the militants to talk.
Lorenzana revealed that at least eight foreign fighters, hailing from Saudi Arabia, Malaysia, Indonesia, Yemen and the Chechen Republic in Russia's North Caucasus, were killed last week during clashes between the Philippines Army and ISIS-linked militants.
While some 90 percent of the city is said to have been taken back under government control, there are reportedly hundreds of civilians still trapped in the war zone. Wednesday's official death toll reached 129 people killed in the fighting – 89 militants, 19 civilians and 21 government soldiers.
The southern city of Marawi, which has a predominantly Muslim population, has seen intense fighting between Islamists and the government troops when militants overran it, following a failed government raid to capture their leader, Isnilon Hapilon. Hapilon, who managed to escape, pledged his allegiance to ISIS in 2014 and was declared its leader in Southeast Asia last year.
The Islamist preacher is well known to the authorities as the head of the Abu Sayyaf militant separatist group, which is responsible for the kidnapping, bombing and assassinations of Philippine citizens as well as foreign nationals. He is featured on the US's most wanted terrorists list, with the FBI offering up to $5 million for information leading to his capture.