Germany to review up to 100,000 asylum applications after soldier poses as refugee – minister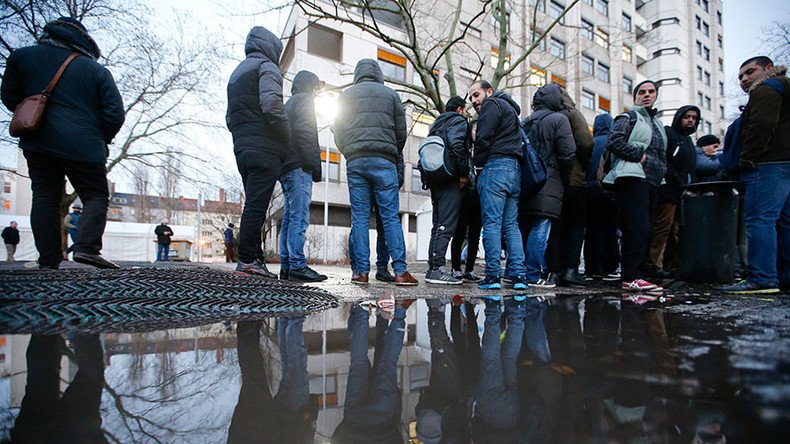 Up to 100,000 decisions to grant asylum to migrants in Germany will be revised after a probe revealed bureaucratic blunders, German Interior Minister Thomas de Maiziere said. The scandal broke out after a far-right soldier was granted asylum after posing as a refugee.
The Interior Ministry ordered the rechecking of 2,000 applications in the case of Franco A., a German soldier with far-right links, who applied for asylum by posing as a Syrian refugee in 2015.
The decision on his application was positive as the man was granted a place in a refugee center and governmental financial aid.
Franco A. was arrested in late April after the 28-year-old's fingerprints were found on a gun planted in a bathroom at Vienna Airport.

German authorities believe that he infiltrated refugee circles as part on extremist plot to assassinate political figures and blame it on the migrants.

De Maiziere informed the journalists of the results of the inquiry on Wednesday, the Interior Ministry's website reported.

He said that Franco A. case was a "grave mistake" on the part of the immigration authorities, stressing that the perpetrator wasn't in collusion with any of the officials who granted him asylum.

According to De Maiziere, Franco A.'s case was an isolated incident as the "the audit hasn't revealed a single comparable case."
READ MORE: 'West exploits Africa': Man breaks minute of silence in Berlin over migrant deaths
However, it was established that not all cases met the documentation and quality assurance requirements of the Germany's Federal Office for Migration and Refugees (BAMF), he said.

"This doesn't mean that we are automatically dealing with wrong decisions in such cases," the minister explained, reminding that rulings were made at the height on the European refugee crisis.

"I therefore decided that we'd opt for 80,000 to 100,000 cases to be examined," de Maiziere said.
READ MORE: 'Massive encroachment on privacy': German MPs pass stringent new rules for asylum seekers
The check may see decisions on some applications overturned, with people losing their refugee status, he warned.

Germany registered 1.1 million asylum seekers in 2015, the majority of whom arrived from war-torn Syria, Iraq and Afghanistan.
You can share this story on social media: