Turkey blasts US for 'extremely dangerous' arming of Kurds in Syria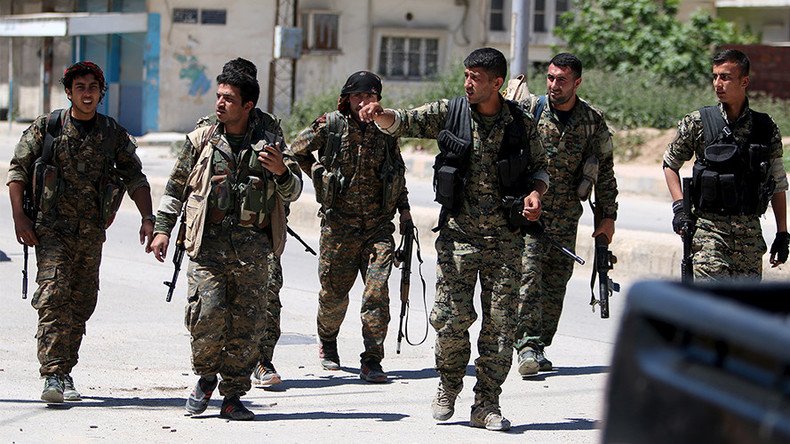 The US' decision to arm Kurdish fighters in Syria is an "extremely dangerous" mistake that should be reversed, Turkey's foreign minister has said. Earlier on Tuesday, the US announced that it was starting to deliver weapons to the Syrian Kurdish militia.
"Such steps are extremely dangerous for Syria's unity and territorial integrity," Turkish Foreign Minister Mevlut Cavusoglu told the media on Wednesday.
"If we are looking for stability in Syria, we should row back from those mistakes," he told a press conference, while speaking alongside his Slovenian counterpart, Karl Erjavec.
Earlier on Tuesday, the Pentagon said deliveries of small arms, machine guns and other military equipment to Kurdish fighters in Syria began this week, saying the move is necessary to help the militias fight the Islamic State terrorist group (IS, formerly ISIS/ISIL) near the city of Raqqa.
This runs counter to earlier reports which said that as many as 100 trucks loaded with US weapons and ammunition had already been delivered to SDF over the past few weeks.
The Pentagon said it considers the multiethnic Syrian Democratic Force (SDF), which is dominated by the Kurdish Peoples' Protection Units (YPG), to be the only military contingent on the ground capable of taking the IS stronghold Raqqa.
Ankara is opposed to arming the SDF, saying the weapons may end up in the hands of the Kurdistan Workers Party (PKK), a Kurdish militant movement based in Turkey that has been waging a guerrilla war against the Turkish government since the 1980s. Both Turkey and the US consider the PKK to be a terrorist organization.
The US first announced that it intended to arm Kurdish fighters in Syria shortly before Turkish President Recep Tayyip Erdogan's May 16 visit to Washington.
"The president clearly expressed our position and concerns during his Washington visit. It was stressed how risky and dangerous the support given to the YPG was," Cavusoglu said. "These weapons could be used against all humanity, not just Turkey," the Turkish FM added.
READ MORE: US Army lost track of $1 billion worth of arms & equipment in Iraq, Kuwait
Last week, the Pentagon was forced to release a 2016 report from the Inspector General's office that said the US military had lost track of weapons worth over $1 billion in Iraq. The hardware, part of the Iraq Train and Equip Fund (ITEF), was meant to help Baghdad fight IS.
Announcing the Kurdish arms deliveries this week, the Pentagon said it would take great care to monitor the use of the weapons and investigate any alleged misuse or diversion.
You can share this story on social media: