Braving bombs, bullets & tear gas – but still not 'real' journalists for Macron (VIDEOS)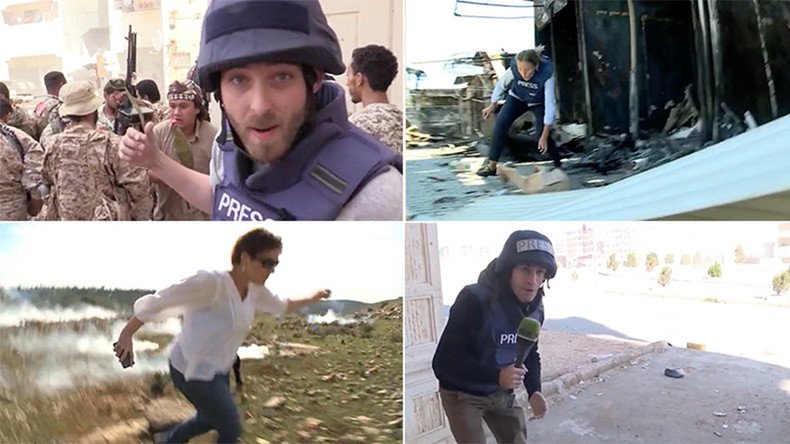 In his latest attack on RT, French President Emmanuel Macron said the news outlet's correspondents were not "real journalists."
Some of the people he dismissed as non-professionals deliver reports while under threat from bombs and bullets.
Macron, who stonewalled RT during his election campaign, justified his attitude by accusing the channel of spreading falsehoods about him. He failed to provide any examples, however.
"They didn't act like the media, like journalists. They behaved like deceitful propaganda," Macron told a media conference on Monday, following a meeting with Russian President Vladimir Putin.
READ MORE: Macron leads war on 'deceitful propaganda' against RT – but #ZeroFactsGiven
"I have always had an exemplary relationship with foreign journalists, but they have to be real journalists."
For Macron's benefit, here are some of RT's "non-journalists":
William Whiteman reported from the Libyan frontline. He won a Gold Prize at the 2017 New York Festivals.
Murad Gazdiev covered the battle for Aleppo in Syria, as well as reporting from the Iraqi city of Mosul during intense fighting there. He was nominated for the 2017 Golden Nymph Awards.
Maria Finoshina reported from battle zones in Libya, Syria and Mali, as well as from the scenes of violent protests in Ukraine and Egypt.
RT's Middle East bureau chief Paula Slier has covered violence in Libya, Syria and Afghanistan. She also reported from protest events in Gaza and Ukraine.
You can share this story on social media: