Hercu-less: Facebook censors 300yo nude German statue, prompting digital 'cover-up'
Facebook has banned the images of a statue of Hercules in Germany's Kassel, the crowning jewel of a UNESCO World Heritage Site, until its custodians mounted a spirited online defense of the iconic monument.
The tourist board of Bergpark Wilhelmshöhe, where the 12-meter statue is stationed atop a hill dominating the landscape, were going to use a rear-facing image of the muscular bronze demigod in an advertising campaign to draw more visitors to the landmark.

But despite the monument featuring in hundreds of guidebooks, it was rejected because the image violated the US social network's advertising guidelines.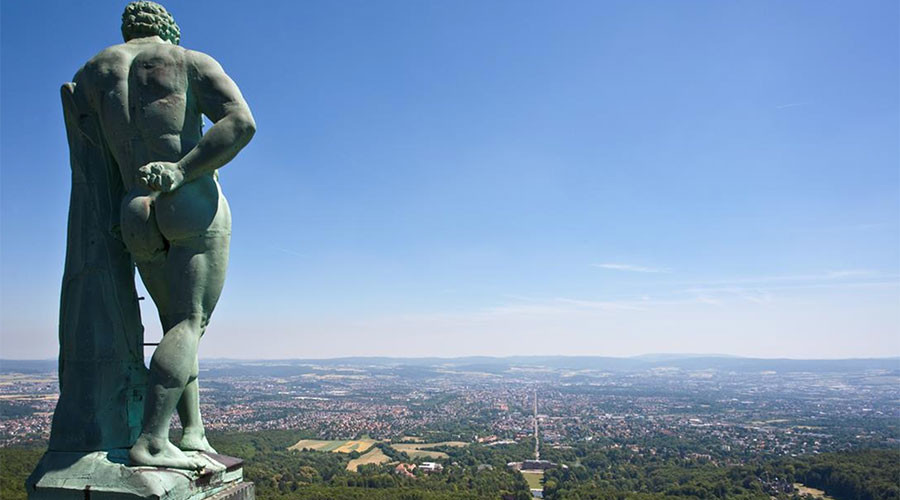 "We just laughed," Ute Schulte, GrimmHeimat NordHessen tourist board director, told Hessische/Niedersächsische Allgemeine (HNA), a local newspaper, claiming that many couldn't believe Facebook was actually being serious.

HNA wrote directly to the California-based company to question the decision, but was told that Facebook "does not allow advertising pictures or videos that show nudity, even if they are portraits for artistic or pedagogic reasons."

It was then that the tourist board realized that the ban was not a curse, but an opportunity.

"We thought, before we got into a long back-and-forth fight, we'd just pull some swim trunks on him. We might even get a little extra attention that way," said Schulte.
The reposted picture was circulated around social media, by those appreciative of ancient forms, but also those outraged at the crudeness of Facebook policies, and after several days, the US company relented, and allowed the proudly naked Hercules to feature in the campaign.

Such controversies have been frequent, even as Facebook has worked to liberalize its censorship of nude artworks, at least for ordinary users, if not advertisers. According to its latest internal policies, leaked in the Guardian last week, users can upload nude art images – even of children – as long as they are not "digital images" featuring "sexual activity."
You can share this story on social media: