Egypt carries out new airstrikes in Libya – commanders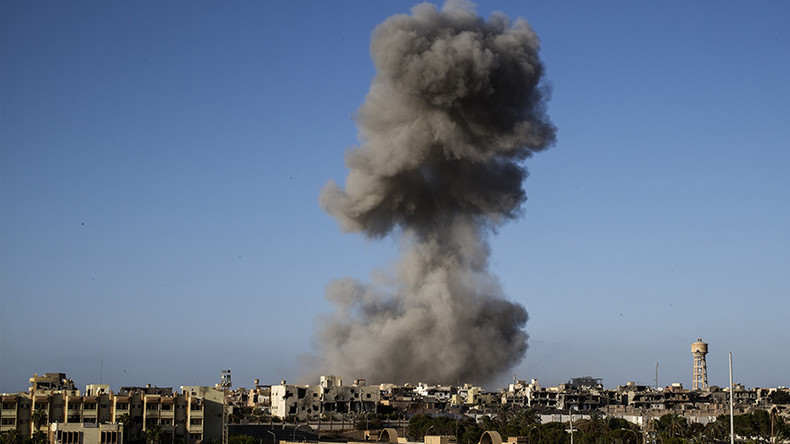 Egypt has continued airstrikes in Libya targeting the Islamist-controlled city of Derna, Libyan commanders have said, confirming witness accounts. Cairo earlier sent warplanes to Libya in retaliation for a deadly gun attack on Coptic Christians.
Witnesses in Derna told Reuters on Monday that at least three airstrikes hit the city. One of the attacks targeted the western entrance to the city and two others hit Dahr al-Hamar, an area in the south of the city.
The Egyptian military spokesman declined to comment on the airstrikes, but the spokesman for the Libyan National Army, a faction in eastern Libya allied to Egypt, has confirmed the bombardment.
The airstrikes on Monday were "joint ones between the Libyan National Army and Egyptian army," Ahmad Messmari, Libyan National Army spokesman, said.
READ MORE: Egypt strikes 'terrorist camps' in Libya in response to attack on Coptic Christians (VIDEOS)
Libyan operational commander Brigadier Abdulsalam Al-Hasi told Reuters that the strikes targeted al-Qaeda-affiliated groups in Libya – Majlis Mujahideen Derna and Abu Salim briga
Egyptian Foreign Minister Sameh Shoukry, who was meeting with his Russian counterpart Sergey Lavrov in Cairo on Monday, said that Egypt had hit terrorist bases in Libya "to get rid of them and to limit their ability to threaten Egypt's national security."
During the joint press conference, Shoukry said that the Egyptian authorities were looking forward to "Russia utilizing all of its available capabilities to work together to get rid of terrorism."
Lavrov, for his part, expressed Russia's condolences over the attack on Coptic Christians, saying that "we must fight this evil (terrorism) together."
Arab League Secretary General Ahmed Aboul Gheit told RT's Maria Finoshina on Monday that his organization was not commenting on the situation, but he added he personally understood Egypt's reaction to the terrorist attack.
When asked whether he justified Egypt's airstrikes, he said, "Very much so."
Egyptian warplanes attacked targets in eastern Libya on Friday and Saturday in retaliation for the massacre of Coptic Christians in Egypt. A convoy of vehicles going to a monastery was stopped on Friday near Minya by armed men who gunned down 29 people and left 24 injured. Islamic State (IS, formerly ISIS/ISL) claimed responsibility for the attack.
The Egyptian military said its airstrikes on Friday targeted training camps, arms depots and militant leaders responsible for the attack.
Al Arabiya reports that the Egyptian airstrikes targeted the Mujahideen Shura Council in Derna (MSCD), an Al-Qaeda-linked militant group that rivals local Islamists pledging allegiance to IS. MSCD earlier released a statement denying involvement in the Minya attack, and accused the Egyptian government of using the incident to draw public attention away from its failures.
Forces loyal to Khalifa Haftar, a general engaged in a long war with Islamist groups in eastern Libya, announced that the Egyptian airstrikes in Derna were coordinated with them. Along with Benghazi, the city is one of the strongholds of the opponents of Haftar's Libyan National Army.
READ MORE: Egypt strikes militants in Libya after deadly attack on Christians
The general refused last year to support the UN-recognized Government of National Accord in Tripoli and remains one of the strongest political figures in Libya.
The country has been fractured since the 2011 NATO bombing campaign helped a rebellion originating in Benghazi oust strongman ruler Muammar Gaddafi. Libya has since been plagued by clashes between rival gangs, economic hardships, and an inflow of refugees from the Middle East and other parts of Africa, who use Libya as a transit point in their attempts to reach Italy.
You can share this story on social media: