Egypt strikes 'terrorist camps' in Libya in response to attack on Coptic Christians (VIDEOS)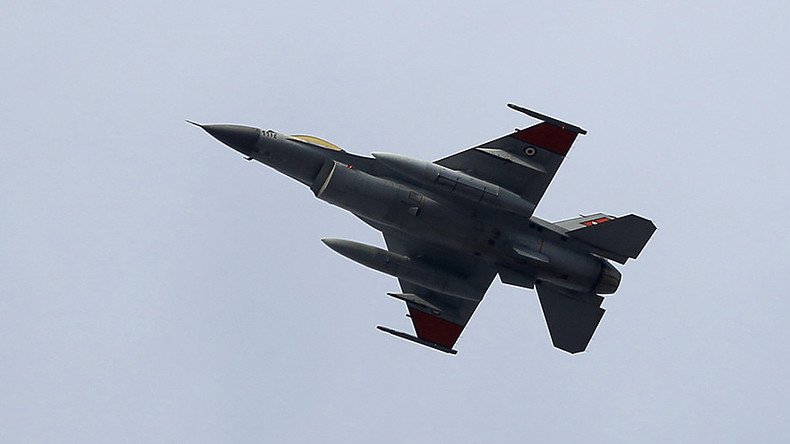 Egyptian fighter jets have struck militant camps following the deadly attack on Egypt's Coptic Christians, President Abdel Fattah Sisi has announced. The strikes were carried out in eastern Libya, state television said.
LIVE UPDATES: Egypt launches airstrikes on militants in Libya after deadly attack on Christians
Egypt's president also vowed to continue striking bases used to train militants and who carry out terrorist attacks in his country, regardless of the camps' location.
READ MORE: Children among dozens killed as gunmen ambush convoy of Egyptian Coptic Christians (GRAPHIC VIDEO)
He also reiterated that the countries financing, training and arming terrorists should not get away unpunished.
"We will not hesitate to protect our people from the evil," he said in a televised speech on Friday.
"Egypt will not hesitate in striking any camps that harbor or train terrorist elements whether inside Egypt or outside Egypt," the al-Ahram news agency quoted Sisi as saying.
Egypt carried out six air strikes in Derna in eastern Libya, state television reported adding that it is where the militants who carried out the deadly attack on the Coptic Christians were trained.
Following the Libyan incursion, Egyptian armed forces released a short video which was aired on state television following the president's speech. The voiceover in the army video said its air force carried out strikes on targets in Libya "after confirming their involvement in planning and committing the terrorist attack in Minya governorate on Friday."
Egypt's military said that the air strikes are ongoing, local media reports.
Footage of the airstrikes was released online, allegedly showing the Egyptian jets attacking targets around the Libyan coastal city of Derna. A few strikes were recorded with plumes of smoke rising up in the sky. A crater left by one of the missile strikes is also shown in the video.
Egyptian security forces have destroyed some 300 vehicles over the past two months which attempted to cross the border from Libya in order to bring in "evil," according to Sisi, who emphasized the huge efforts his country has undertaken to battle terrorism.
The Egyptian president also directly addressed Donald Trump to take the lead in fighting terrorism.
"I direct my appeal to President Trump: I trust you, your word and your ability to make fighting global terror your primary task," he said.
On Friday President Trump condemned the attacks on Egypt's Coptic Christians, denouncing the "thuggish ideology" and "evil organizations of terror."
"We are probably going to see more action particularly following the meeting that just took place in Riyadh in Saudi Arabia, in which Donald Trump himself called for greater response to terrorism... and president el-Sisi gave Trump those kind of assurances," former Pentagon official Michael Maloof told RT.
Speculating that Egypt "probably received intelligence from the United States that helped pinpoint the locations," Maloof said Egypt will continue its attacks against terrorist groups, adding, "it's not the first time they struck in Libya."
The Egyptian air campaign in Libya should focus not only on militants, but also on those entities which support terrorists, Abayomi Azikiwe, editor of Pan-African News Wire told RT.
"Identifying the states and the entities within these states who are arming and financing and providing all types of diplomatic and political cover for these organizations to continue to operate in this fashion" must be one of Egypt's priorities when in its battle against extremists, Azikiwe said.
"We do know that Libya has become a base for instability throughout North Africa and even beyond to West Africa and of course into Europe as Well," he added.
At least 28 Coptic Christians were killed and 23 others injured earlier Friday, when gunmen, disguised as army soldiers, opened fire on a bus heading to the Monastery of St. Samuel the Confessor, located 135km (85 miles) south of Cairo, in the Minya governorate.
No militant group has yet claimed responsibility for the deadly attack on the bus.
You can share this story on social media: