Russia's new civilian airliner takes off on maiden flight (PHOTOS, VIDEOS)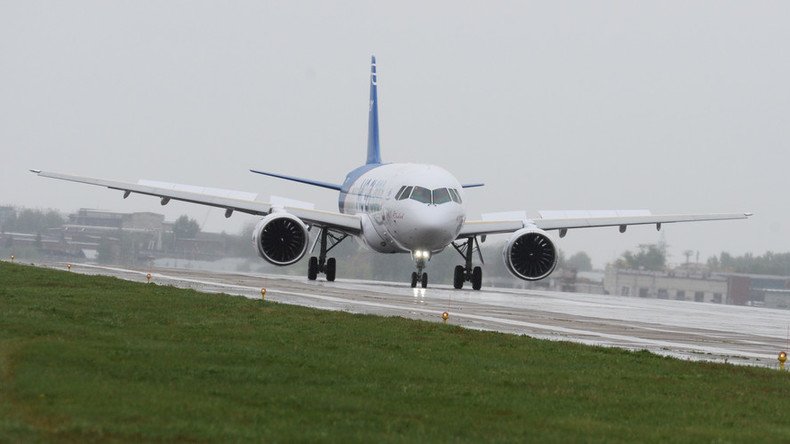 The Irkut MC-21, Russia's newest civilian narrow-body airliner, made its long-awaited maiden flight, as confirmed by the producer, which hopes the jet will compete with China's COMAC C919, the legendary Boeing 737, and the Airbus A320.
READ MORE: New Russian airliner set to take on Airbus and Boeing
The flight on Sunday differed from the plane's roll-out from the assembly line earlier in May, which was a major media event in Irkutsk.
The MC-21's maiden flight was first reported by witnesses on social media and later confirmed by Vice Prime Minister Dmitry Rogozin in a Facebook post, in which he said, "We're flying," with several photos attached.
Footage of the flight were also posted on YouTube.
Irkut later released a statement detailing the flight. The MC-21 flew for around 30 minutes at a speed of 300km/h, reaching a height of 1,000 meters, it said.
According to pilot Oleg Kononenko, who was in the cockpit alongside Roman Taskaev, the flight was fully within the nominal parameters and revealed no obstacles to further test.
The Irkut MC-21 is a twin-engine short- to mid-haul jet airliner with a capacity of 151–212 passengers, depending on the model and class configuration.
The producer hopes that the airliner will replace the aging fleet of Soviet-made passenger aircraft and compete for a share in the global market, thanks to its relatively low price and higher cruising speed.
Domestic airlines have reportedly signed up for 285 MC-21s, including 185 with downpayments already made. Irkut plans to build 20 jets per year initially, potentially boosting the figure to 70 by 2023.
You can share this story on social media: