IDF dismantles anti-occupation encampment set up by activists in West Bank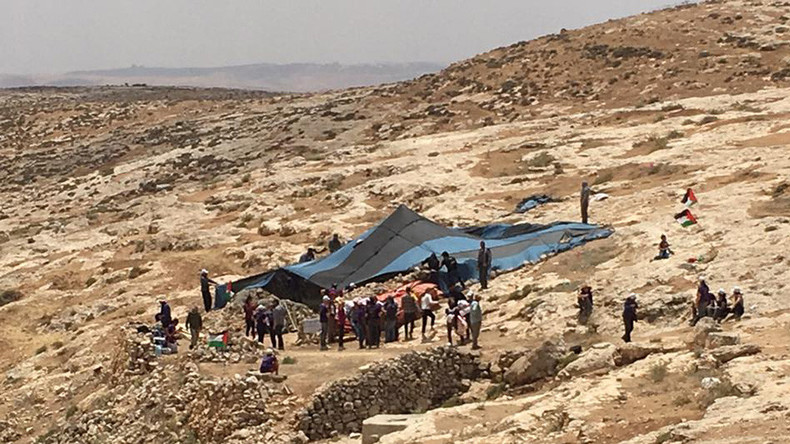 IDF soldiers have removed the last remaining tent at a West Bank encampment set up by Jewish activists from the US and Canada. The camp was erected to mark the 50th anniversary of Israeli occupation.
Soldiers embarked on the encampment, referred to by activists as the Sumud Freedom Camp, early on Thursday, Haaretz reported.
According to activists at the site, the soldiers did not present any written teardown orders for the camp, which was located in the South Hebron Hills.
READ MORE: Palestinians injured in clashes with IDF on 1st day of Trump's visit to Israel (VIDEO)
A Canadian-born organizer for the Center for Jewish Nonviolence, 25-year-old Isaac Kates Rose, was detained after trying to stop the soldiers from tearing down the encampment.
An ambulance was also called during the confrontation on Thursday morning, to provide medical treatment to Fadel Amer, a local Palestinian who has been hosting the activists. It was not clear why he needed treatment.
The Thursday raid came after the army tore down three of the encampment's four tents on Saturday.
The camp was set up on the site of the hamlet of Sarura, which was evacuated 20 years ago due to settler violence and a crackdown by the IDF. It was erected to mark the 50th anniversary of Israel's occupation of the West Bank.
The most recent raid comes just one day after Israeli police broke the arm of 25-year-old American Jewish activist Sarah Brammer-Shlay and injured several other anti-occupation demonstrators during a Jerusalem Day protest.
Brammer-Shlay told Haaretz that about 20 protesters were linking arms to try to block those taking part in the Flag March, a Jerusalem Day event, from reaching the Old City on Wednesday.
Police then started pushing the demonstrators to the ground, where they linked arms once again. Officers then dragged them off, some of them being choked while they were dragged.
She said police then threw protesters on top of one another within a small area fenced off by metal barricades. Officers then tried to remove her from that area.
"They pulled my left arm; I heard and felt my arm pop and I knew something horrible had happened," she said. "I was screaming 'my arm, my arm,'" she said.
Doctors have reportedly told Brammer Shlay that she faces a 50 percent chance of needing surgery.
Meanwhile, activists from groups including IfNotNow, Free Jerusalem, and All That's Left said they took part in the Jerusalem Day protest on Wednesday to highlight "the way the Israeli state uses violence on Palestinians and to protest right-wing extremists."
In a statement on its website, IfNotNow said this year's March of the Flags event was particularly symbolic, as it marked 50 years after the Israeli occupation of the Palestinian territories began, and just one day after US President Donald Trump left the region.
The demonstrators held a banner which read "End the Occupation" in English, Hebrew, and Arabic. They also sang songs in Hebrew and chanted slogans, including "Now, now is the time; Jews must stand with Palestine," according to a statement on IfNotNow's website.
"Over the past 50 years, the Israeli Occupation of Palestinian territory has become more and more entrenched, making the daily existence of Palestinians harder and harder. Today we acted to urge our community back home to shake off its complacency and join Jews around the world calling for an end to the Occupation," said Talia Kravitz, an IfNotNow member who lives in New York.
You can share this story on social media: