Bahrain, Egypt block Al Jazeera & others for 'supporting terrorism & lies' amid Qatar news 'hack'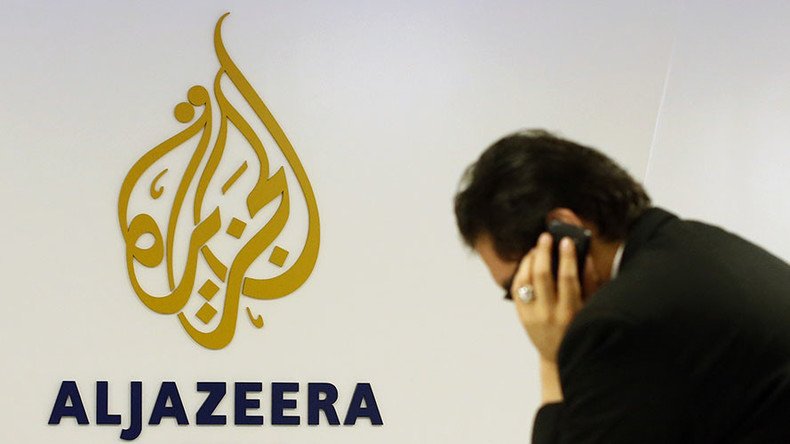 Egypt and Bahrain have blocked news websites, including those run by Qatari-based state funded Al Jazeera. Cairo has blocked 21 websites, claiming they support "terrorism" and published "lies."
The move comes on the heels of similar actions by Saudi Arabia and the United Arab Emirates, in response to statements made against the Saudis that were published by the Qatar state news agency after an alleged hack.
Egypt banned as many as 21 websites on Wednesday, including the main website of Al Jazeera, Reuters reports, citing MENA news agency and security sources.
"A senior security source said 21 websites have been blocked inside Egypt for having content that supports terrorism and extremism as well (as) publishing lies," MENA reported, adding that the websites would face legal action.
The websites affected are believed to be affiliated with the outlawed Muslim Brotherhood or financed by Qatar, Reuters said citing its sources.
While only five websites, including Al Jazeera, were named by the security sources, other Egypt-focused news websites, hosted abroad and believed to be supported by Qatari authorities, were also blocked. Other news outlets were reportedly inaccessible on Wednesday, including Huffington Post Arabic and Mada Masr, an independent Egyptian investigative online newspaper.
Officials have not commented on the issue so far. The National Telecom Regulatory Authority said that even if the news is true, it "should not be a problem" as cited by Reuters.
Bahrain also joined in blocking the websites on Thursday, according to AP. The list of blocked websites has not been specified so far.
After becoming inaccessible in Saudi Arabia and the United Arab Emirates on Wednesday, Al Jazeera said it was "studying the reports our channels and digital platforms have been blocked in certain countries in the region," as cited by AP.
Mada Masr has said on its Facebook page that the website is not accessible through most internet providers in Egypt and that their website was "attacked." Mada Masr says it is dealing with the issue and advises its users to use the cached copy of the website.
On Wednesday, Saudi Arabia and the United Arab Emirates blocked the website and cable broadcasts of Al Jazeera after an allegedly fake report published by state-run Qatar News Agency (QNA) sparked outrage from the Gulf states. The report, citing Sheikh Tamim bin Hamad al-Thani, criticized Saudi Arabia for growing tensions with Iran and praised Lebanese organization Hezbollah and the Palestinian group Hamas. Doha blamed hackers for taking control of QNA's website and publishing fake news, and said it is investigating the issue.
The scandal came just several days after a meeting of Arab leaders and US President Donald Trump in the Saudi capital, Riyadh.
Qatar's foreign minister, Sheikh Mohammed bin Abdulrahman al-Thani, dismissed fears that the hacking scandal would lead to serious tensions between the Gulf states.
"Qatar is always in favor of maintaining strong and brotherly relations with GCC (Gulf Cooperation Council) countries," he stated at a Thursday news conference.
You can share this story on social media: