4 suspected Islamists arrested in Berlin ahead of Obama's visit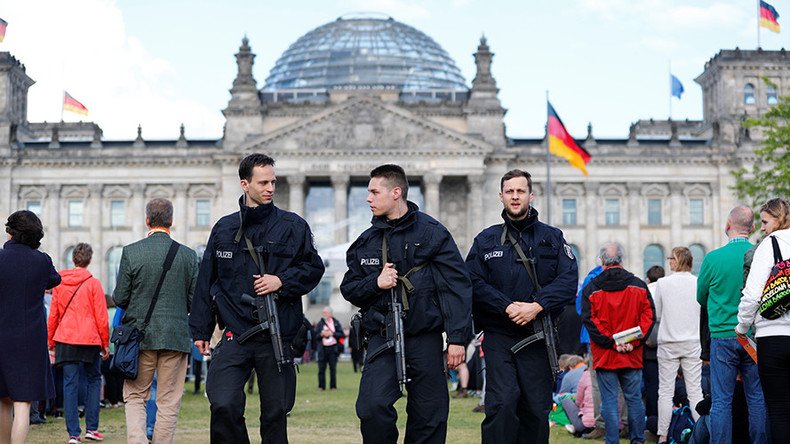 German police have detained four suspected Islamists during a raid in Berlin on Wednesday as the capital gears up for several mass events on the weekend, including a joint appearance by Chancellor Angela Merkel and former US president Barack Obama.
The early morning operation was aimed against a gang of armed drug traffickers, police said. A total of nine people were arrested in the raid, with four of those detained being members of a "violent Islamist" group, Reuters reported.
Thousands of extra visitors are expected in Berlin for the long weekend from May 25 to 28 as it hosts the national football cup final, the German Protestant Church Assembly – which commemorates the 500th anniversary of the Protestant Reformation along with Obama's visit.
Over 6,000 police are expected to be on the streets of the German capital for the events.
Obama is traveling to Berlin for the religious fest and is expected to make an appearance alongside Merkel in front of an expected 140,000-strong crowd near the Brandenburg Gate on Thursday.
The former US president is likely to promote his Obama Foundation and participate in a panel discussion entitled "Being Involved in Democracy: Taking on Responsibility Locally and Globally" together with Merkel, DPA news agency reported.
Berlin has introduced extraordinary security measures ahead of the long weekend's events.
"We're well prepared for events like that in Manchester" where a suicide bomber killed 22 people after a pop concert on Monday, Andreas Geisel, Berlin's interior affairs senator, told RBB radio.
However, the British attack prompted Germany to adjust security measures at public gatherings, with interior minister Thomas de Maiziere saying "we mustn't focus exclusively on access controls."

"The Manchester events have shown that the situation at the end of the event have to be looked at carefully when people leave the hall or stadium," de Maiziere told Bild newspaper.
READ MORE: 1,000 soldiers on streets as nervous Britain prepares for 'imminent' terror attack
With last December's deadly Christmas market attack still fresh in the minds of Berliners, all of central Berlin will be cordoned off, including the Brandenburg Gate, the Reichstag building and the downtown district of Tiergarten, according to the Berliner Morgenpost.
Police reinforcements will be drafted in from the adjacent states of Baden-Wuerttemberg and Rheinland-Pfalz while security services will dispatch sniper teams to cover the perimeter, Die Welt reported.
Obama will land in Europe the same day as sitting US President Donald Trump is scheduled to arrive in Brussels for a NATO summit.
Trump's first international tour has already included meetings with Arab and Muslim leaders in the Saudi Arabian capital Riyadh, talks with Israeli Prime Minister Benjamin Netanyahu and Palestinian leader Mahmoud Abbas as well as Wednesday's audience with Pope Francis at the Vatican.
READ MORE: Manchester bomber Salman Abedi 'trained in Syria'
After her engagement with Obama on Thursday, Merkel will travel to Brussels to meet with Trump.
During his time in office, Obama has repeatedly called Merkel his "closest international partner," thanking her for "eight years of friendship" at the end of his tenure.
With just four months to go until the general election in Germany – in which the incumbent Chancellor hopes to retain the seat for a fourth straight term, Obama's visit is widely viewed as a sign of support for Merkel.
The 500th anniversary of the Protestant Reformation celebrations will feature 2,500 events across Germany including church services, Bible readings, discussions with politicians and concerts.
You can share this story on social media: