Security tightened at concert & sports venues worldwide after Manchester attack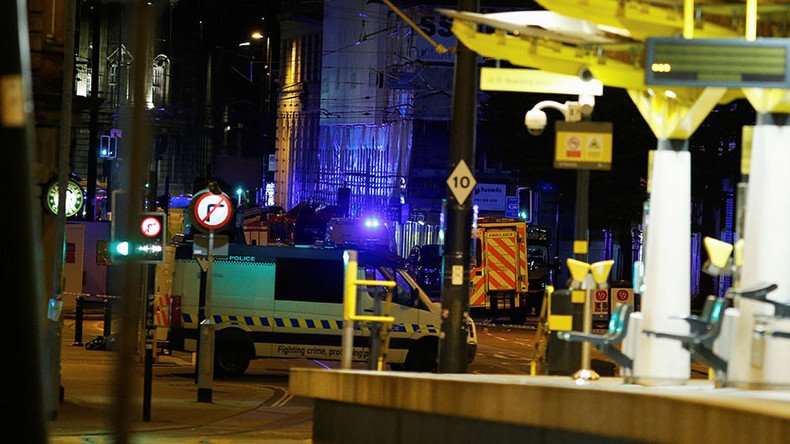 France, Italy and the US were among many countries to announce additional security measures at concert and sports venues as well as in the streets after a suicide bomber killed 22 people at pop-star Ariana Grande's show in Manchester, UK.
LIVE UPDATES: Manchester Arena explosion
French interior minister, Gerard Collomb, had given instructions to organizers of sporting and cultural events in the country to strengthen security measures, Reuters reported. The police will increase its presence in and around concert venues in Paris, especially at the start and end of events, according to the French capital's police chief Michel Delpuech.
French law enforcers have been compiling a list of potentially "sensitive" venues which are expected to attract huge audiences, Delpuech said. It includes theatre and sports arenas as well as the French Open tennis tournament scheduled to begin at Roland Garros in Paris next week.
Italy's anti-terror committee has meanwhile called an extraordinary meeting following the Manchester attack, during which it was decided to add external security measures. Interior Minister Marco Minniti has called for "strengthening security measures to protect the most vulnerable facilities as well as places of mass gatherings," according to the ministry's statement.
Italy is already at its highest terror threat level as US President, Donald Trump and other world leaders arrive in Sicily for the G20 summit on May 26-27. Minniti urged the highest possible vigilance but added that "the level of threat in the country remains unchanged."
In the US, New York authorities announced that the population should expect explosive detection dogs, counterterrorism officers and bag check points in the city. The NYPD however said on Twitter that there was no "specific/credible threat" and that the measures were only a precaution.
New York City police "have moved additional heavy weapons teams to high profile locations around the city," NYPD spokesman, J. Peter Donald, said in a statement. New York governor, Andrew Cuomo, called on security personnel to "step up security and patrols at high-profile locations," including airports, bridges, tunnels and the public transportation system.
Boston, which hosts the popular 'Boston Calling' festival this weekend, also announced that it is boosting security. The events in Manchester were "another example of why we need to continue to be vigilant as a country and as a community about domestic terrorism," Charlie Baker, Boston's governor, was cited as saying by the State House News Service.
"We're taking additional precautions across our public transportation systems and at the airport just to be sure," Baker added. Boston police also said there were no specific threats, but has still "increased patrols at concert venues in and around the city."
The Air Canada Center (ACC) in Toronto, which host matches of the local NHL and NBA teams, was prompted to strengthen its security as well. Dave Haggith, the spokesman for ACC, promised that the arena will be at "heightened awareness" with additional security staff on the ground during upcoming events, the Star paper reported.
Hong Kong's AsiaWorld-Expo said it will erect metal detectors to counter potential threats in the wake of the British suicide attack, South China Morning Post reported. It also said that it would consider using search dogs and oblige visitors to wear straps during the upcoming concerts.
READ MORE: 'We stand together': Manchester sporting community pays tribute to concert bombing victims
AsiaWorld-Expo is also scheduled to host Ariana Grande in September, with organizers saying they were not certain if the concert would be cancelled after the Manchester events.
Twenty-two people, including an 8-year-old girl, were killed and 59 others injured after a terrorist blew himself up at the Manchester Arena on Monday night. The blast went off when the audience, mainly consisting of young music lovers, was leaving the venue after Grande's show.
The perpetrator of the attack was identified as Salman Abedi, a 22-year-old UK citizen of Libyan origin, who was born in Manchester. The Islamic State (IS, formerly ISIS/ISIL) terrorist group has meanwhile claimed responsibility for the attack.
You can share this story on social media: