Global population almost as scared of climate change as war – survey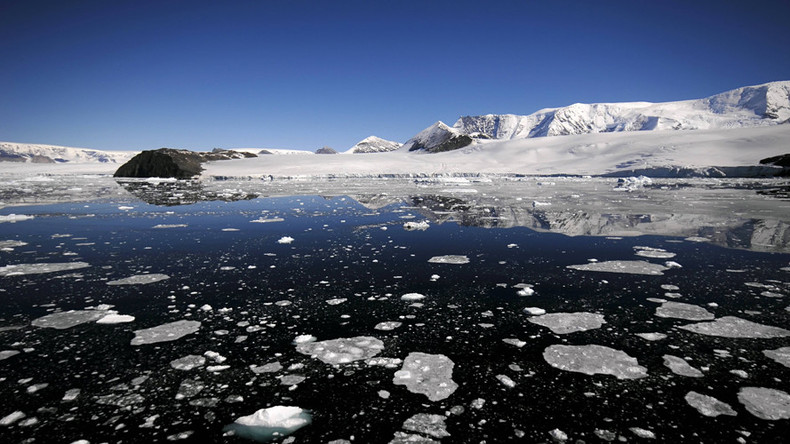 People across the world are nearly as scared of climate change as they are of a war caused by "politically motivated violence and conflict," according to a new global catastrophic risk survey.
The Global Catastrophic Risks 2017 poll, commissioned by the Global Challenges Foundation, polled 8,101 adults between the ages of 18 and 64 in Australia, Brazil, China, Germany, India, South Africa, the UK, and the US.
It found that 86 percent of people surveyed consider war caused by "politically motivated violence and conflict" to be a global catastrophic risk.
Almost as many people (84%) put climate change resulting in environmental damage such as rising sea levels or melting ice caps in the same category.
The "global catastrophic risks" included in the survey were determined by working with academic experts, according to an annual report released alongside the poll.
"For the first time in human history, we have reached a level of scientific knowledge that allows us to develop an enlightened relationship to risks of catastrophic magnitude," the foundation wrote in a release.
"Not only can we foresee many of the challenges ahead, but we are in a position to identify what needs to be done in order to mitigate or even eliminate some of those risks," it continued.
Meanwhile, the survey also found that 86 percent of respondents fear "other large-scale environmental damage," such as water, air, and land pollution.
Less people (83%) considered using weapons of mass destruction, including nuclear, chemical, and biological weapons, to be a global catastrophic risk.
Even fewer (80%) were concerned about population growth and natural epidemics and pandemics (77%).
The least number of people (53%) cited the rise of artificial intelligence as a global catastrophic risk.
The majority (70%) of those surveyed said they believe it may be time to create a new global organization specifically designed to deal with global risks. Nearly 60 percent said they would be prepared to have their country give up some level of sovereignty for that to happen.
"Whether it's the specter of nuclear conflict over North Korea or the planet tipping into catastrophic climate change, the need for effective global cooperation has never been greater," Mats Andersson, vice chairman of the Stockholm-based Global Challenges Foundation, told the Thomson Reuters Foundation.
The poll also found that 85 percent of people think the United Nations needs to be reformed in order to better address global threats.
The foundation seems to agree that current channels aren't enough to combat the threats being faced.
"The institutions we rely on to ensure peace, security, development and environmental integrity are woefully inadequate for the scale of the challenges at hand," it wrote, noting that the international community needs to "collaborate" to manage threats.
The survey was conducted by the UK-based market research company ComRes between April 27 and May 10.