Taiwan's top court backs same-sex marriage in 1st for Asia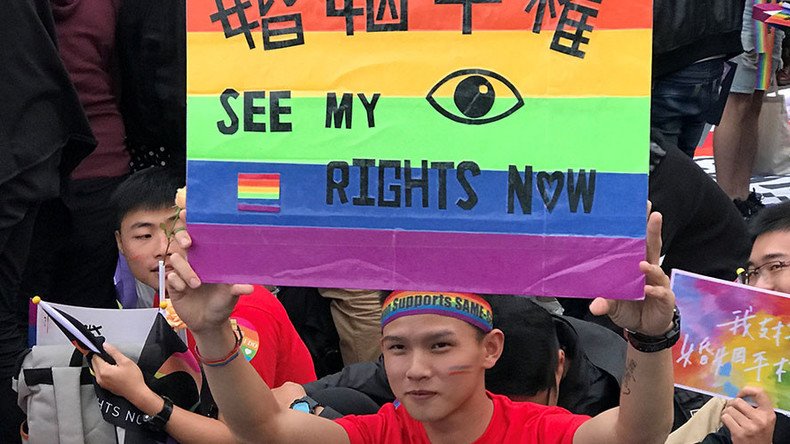 Taiwan's top court has ruled in favor of same-sex marriage, stating that current laws prohibiting such unions are unconstitutional. The landmark decision paves the way for Taiwan to become the first place in Asia to allow gay unions.
A panel of grand justices of the Constitutional Court ruled on Wednesday that the definition of marriage between a man and a woman violated two articles of the constitution.
"The need, capability, willingness and longing, in both physical and psychological senses, for creating such permanent unions of intimate and exclusive nature are equally essential to homosexuals and heterosexuals, given the importance of the freedom of marriage to the sound development of personality and safeguarding of human dignity," the court said in its ruling.
It also stated that the freedom of marriage for homosexuals will "constitute the collective basis, together with opposite-sex marriage, for a stable society."
The panel gave the island's parliament, known as the Legislative Yuan, two years to either amend current laws or enact new ones. If legislators fail to meet the deadline, same-sex couples can register to marry based on the Wednesday ruling.
"If relevant laws are not amended or enacted within the said two years, two persons of the same sex who intend to create the said permanent union shall be allowed to have their marriage registration effectuated," the court said.
The ruling follows the creation of a lobby formed in recent years by gays and lesbians in Taiwan. An annual Gay Pride march draws tens of thousands of people.
Although Taiwan is known as a liberal island compared to its neighbors across Asia, not everyone has supported the push for marriage equality. Two of the court's 15 justices filed dissenting opinions on Wednesday, and one recused himself from the case, according to AP.
In December, rival protest groups took to the streets of Taipei to voice their opinions, after President Tsai Ing-wen's ruling Democratic Progressive Party passed the first draft bill to legalize same-sex marriage.
Twenty-three countries currently allow same-sex marriage, according to the Pew Research Center, none of which are located in Asia.
You can share this story on social media: