Gay pair caned in Indonesia as crowd cheers & takes pictures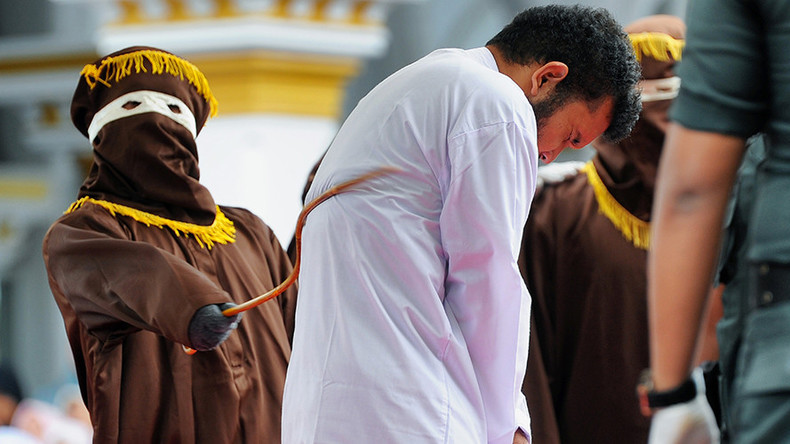 Two men caught having sex in March were subjected to a public caning in the Indonesian province of Aceh on Tuesday. A crowd of about 1,000 people watched the punishment, many cheering and filming the event.
The public caning took place in a square in front of a mosque in the provincial capital, Banda Aceh. The pair, aged 20 and 23, each received over 82 strikes with thin rattan canes. Their original sentence of 85 lashes was reduced due to time spent in detention.
At least eight other men and women were caned along with the gay pair for offenses such as adultery, which is a crime under Sharia law. The beating was carried out by some 10 officials, who were wearing brown robes and had hoods covering their faces. The officials took turns during the beating and paused briefly when those being punished indicated that they were in too much pain, Reuters reported.
A crowd of some 1,000 people witnessed the punishment. Some cheered or filmed the caning or livestreamed the event on the internet.
"I wanted to watch it so it could serve as a lesson for me not to commit any act that violates Islamic teaching," Zubaidah, a 20-year-old female college student who said that it was the first time she had witnessed a caning, told AFP. "Homosexuality is a curable disease, it is very forbidden in Islam."
"I hope there won't be any more such cases of homosexuality, it is shocking," another young student, Eni Tri Retnaningsih, told Reuters.
Aceh is the most conservative province in Indonesia, a country with the world's largest Muslim population. It was given a right to enforce Sharia law alongside the national criminal code in the 2000s as part of an agreement with the central government to quell a separatist movement.
Authorities in the province criminalized same-sex relations in 2014, and the Tuesday caning was the first time a sentence was carried out under the ruling. The province caned 339 people in 2016 for other crimes, according to Human Rights Watch.
While homosexuality is not a crime in the rest of the country, LGBT activists say there is a growing pressure against the minority there too. Just two days before the Aceh caning, Jakarta police detained over 140 people attending a suspected gay party at a gym and sauna club. Ten people, including the owner of the establishment and several staff members, were charged under Indonesia's strict anti-pornography laws and for prostitution.
The backlash against the LGBT community began in early 2016, according to activists, who believe it was triggered by widespread media coverage of the legalization of same-sex marriage in the US.
You can share this story on social media: