New tool allows deaf-blind people to independently 'watch' TV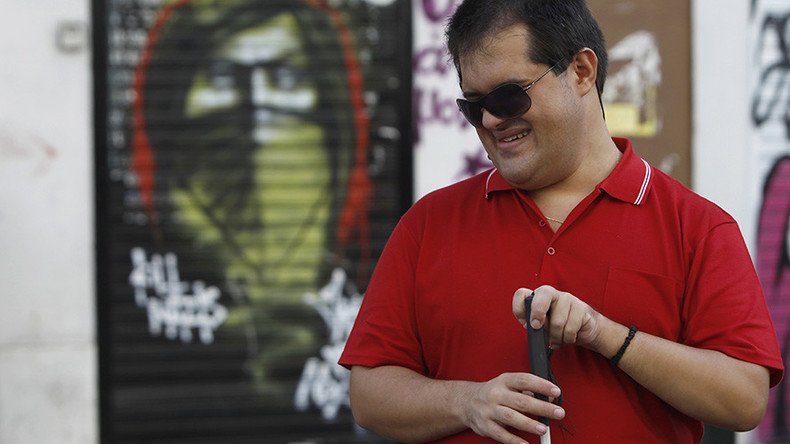 An innovative new tool has made it easier for deaf-blind people to enjoy television. The technology compiles subtitles and quickly transmits it to Braille via an app eliminating the need for an intermediary.
The software, PervasiveSUB, gathers subtitles from television programs and sends them to a central server. From there, the subtitles are forwarded to smartphones or tablets.
Once the subtitles are received by a device, they are transmitted to the deaf-blind person in Braille with the help of an app called GoAll.
The device was presented at Spain's Universidad Carlos III de Madrid (UC3M), according to a Thursday press release from the university. The demonstration included deaf-blind persons who demonstrated how the technology works.
The new tool has been hailed by those who have tried it, according to the statement from the university.
"All the people who have tried it highlight the advantage of being able to access information they previously could not, in real time and without intermediaries, and they have also praised its ability to transmit to Braille lines and the ability to adjust the reading and viewing speed," it states.
The tool was developed by researchers at the university's Pedro Juan de Lastanosa Institute of Technological Development and Promotion of Innovation and financed by Spanish telecommunications company, Telefonica.
The leader of the research group that developed the software, Garcia Crespo, said the technology is very needed as deaf-blind people are often overlooked. "One of the big problems deaf-blind persons face is the scant attention they receive, which is demonstrated by the fact that they weren't recognized by the European Parliament until 2004," he said.
The technology has already been introduced on all national Digital Terrestrial Television (DTT) channels and regional DTT channels in Madrid.
"It will soon be available in the other autonomous regions of Spain," the release states, noting that the research team is providing the service for free to anyone who needs it.
Deaf-blindness is defined as having little or no useful sight or hearing. While those suffering from the condition typically must use an intermediary to explain what is happening on television screens, PervasiveSUB eliminates that need.
You can share this story on social media: