Serbia joining NATO would split the nation – President-elect Vucic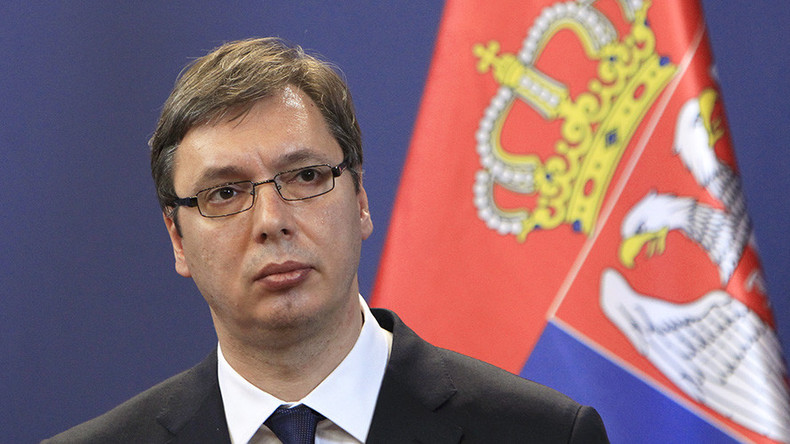 Serbia joining NATO would split the nation for decades and would have grave long-term consequences as the overwhelming majority of Serbs oppose the idea, Prime Minister and President-elect Aleksandar Vucic said.
Becoming a member of the alliance would solve many of Serbia's problems, Vucic said as he gave a lecture to students of Belgrade University's Faculty of Security Studies.
At the same time, he admitted that such a decision would go against the will of 75 percent of the population and would only "bring a deep division and discord" to Serbia, which would have long-term consequences.
He went on to say that Serbia should maintain its military neutrality instead of seeking to join any military bloc.
Vucic also said that Serbia should set the goal of joining the EU while maintaining the best possible relations with Russia and China.
This policy has so far proved successful for Serbia, Vucic said, adding that Russian President Vladimir Putin said that "Serbia and Russia have never had better relations," while the US and EU also praised the high level of cooperation between Serbia and Western countries.
Vucic admitted that 70 percent of Serbs advocate closer ties with Russia and oppose Serbia's rapprochement with the West. He added, however, that a policy which placated such public sentiment would be detrimental to foreign economic ties and eventually to the Serbian economy in general, as he apparently defended the idea of Serbia joining the EU.
In the meantime, the deputy head of the EU delegation to Serbia, Oscar Benedict, said on Monday that Serbia "has made significant progress" on its way to joining the European Union in the recent years.
He also said that, even though Serbia's accession negotiations with the bloc "are not frozen, they may take a long time" because Serbia first needs to conduct a number of reforms.
"We know that these reforms are difficult and it takes a lot of time for their implementation," he said, adding that "it cannot happen in one day."
Benedict also said that the speed of accession "depends only on Serbia.""It is not the EU that should make progress but it is Serbia that should carry out reforms for the benefit of its citizens," he said at the Vienna Economic Forum's Belgrade meeting on Monday, as reported by the Serbian Politika newspaper.
At the same time, Benedict said that "Serbia is on the right track" and expressed confidence that Serbia would become an EU member by 2030.
Meanwhile, it is reported that Serbia is also creating a national body to boost ties with Russia and China. On May 19, the Serbian government issued a decree on the establishment of the Office of the National Council for Coordination of Cooperation with the Russian Federation and China, Serbian media report.
The council's top post is expected to be taken by the outgoing Serbian president, Tomislav Nikolic, after his term of office expires on May 30. The council will be tasked with developing Belgrade's ties with Moscow and Beijing in a wide range of fields.
In mid-April it was also reported that Serbia plans to purchase Russian-made S-300 surface-to-air missile systems. A possible agreement is apparently also being discussed with Russia and Belarus.
Vucic also said in April that Belgrade had sealed a deal to receive six Russian MiG-29 fighter jets.