100s of students march in Tokyo against Japanese PM Abe's plans to change pacifist constitution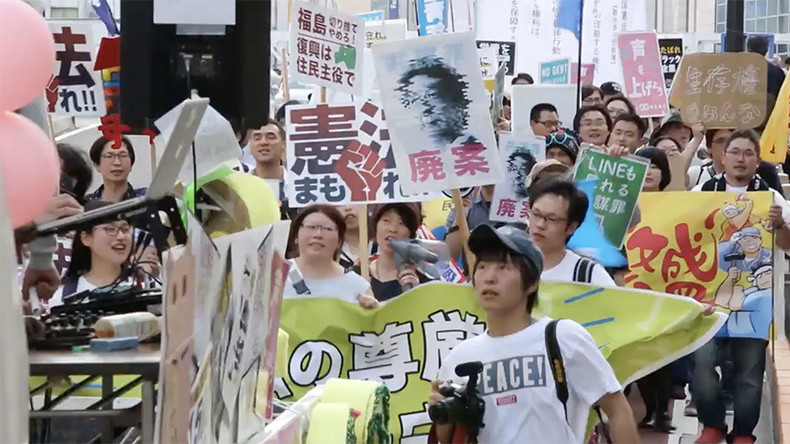 Hundreds of people, mostly students, took to the streets of Tokyo to protest Japanese Prime Minister Shinzo's intention to amend Japan's pacifist constitution, local media reported.
Earlier in May, Abe announced plans to revise Article 9 of the Japanese Constitution, which forbids the state from engaging in wars as a means of settling international conflicts. It came into effect in 1947 after World War II.
On Sunday, demonstrators gathered in Shinjuku Central Park, which is surrounded by the Japanese capital's tallest buildings, including the Tokyo Metropolitan Government Buildings.
The organizers said some 1,800 people came out for the rally, Mainichi Newspaper reported.
The protesters carried banners, saying "What should be changed is not the Constitution but the politics" and "Protect peace, oppose war," Xinhua News Agency reported.
"The Abe administration has set a time frame for changing the pacifist Constitution. We are gathering here today to call on the people to recognize that what should be changed is not the Constitution, but Japan's politics," Izumi Kurotsu, one of the rally organizers, told Xinhua.
Speaking to a gathering organized by pro-constitutional reform groups on May 3, Abe said he is planning to authorize the existence of country's de-facto army, the Japanese Self-Defense Forces (SDF), and wants a new Constitution to come into force by 2020.
"While maintaining the two paragraphs of the article, the inclusion of a clear reference to the Self-Defense Forces is an idea that is worthy of discussion by the people," the prime minister said at the time.
"Many constitutional law scholars and political parties continue to argue that the SDF is unconstitutional" he said, adding "that is very irresponsible."
Abe has overturned a decade of defense cuts since coming to power in 2012. He has also been trying to steer the country away from its post-World War II pacifist stance, while pushing for a larger role for Japan's military.
Earlier in May, reports emerged claiming that the Japanese government was considering buying and deploying Tomahawk cruise missiles in response to North Korea's missile and nuclear tests.
READ MORE: Japan's ruling party pushing for THAAD anti-missiles & strike capability against N. Korea
Tokyo scrambled a record number of jets over the last 12 months up to April – 295 more than in the same period last year – mainly due to the increased activity of Chinese military aircraft, Admiral Katsutoshi Kawano, Japan's chief of staff, said.
READ MORE: Japan shows off new armored personnel carrier prototype