Japan shows off new armored personnel carrier prototype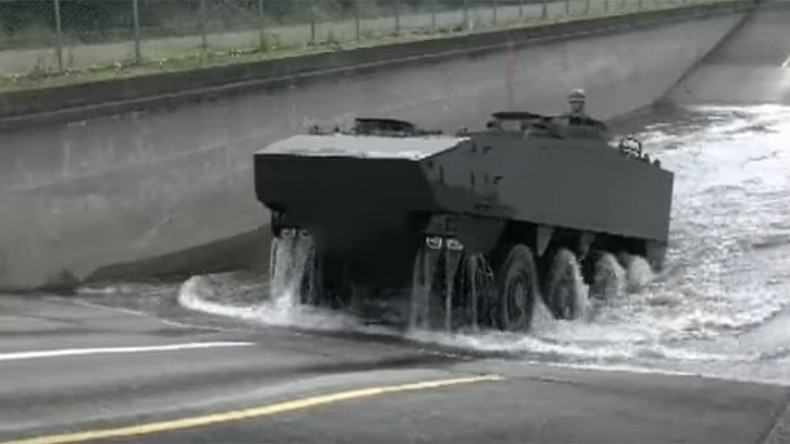 The Japanese military has unveiled a prototype of its new eight-wheel-drive armored personnel carrier (APC), as part of the country's efforts to boost its defense capabilities amid tensions in the region.
The Japanese Defense Ministry expects the Wheeled Armored Vehicle (Improved) project to eventually replace the aging Type 96 APCs now in use by the Japan Ground Self-Defense Force (JGSDF), Defense News reported.
The finished version of the carrier will weigh in at 20 tons and be capable of reaching speeds of up to 100kph on paved roads.
It will boast improved protection from various threats – including improvised explosives – and will contain a more powerful engine and strengthened suspension compared to its Type 96 predecessor.
The APC will carry up to 11 people, Japan's Acquisition, Technology & Logistics Agency (ATLA) said in a press release.
The crew will consist of a commander, driver, gunner and eight dismountable personnel, who will be able to quickly exit and enter the vehicle via a power-operated ramp in the rear hull.
The footage provided by the ATLA showed not only the basic armored vehicle build, but also its communications support and engineering variations.
The Japanese Defense Ministry has invested 4.7 billion yen (US $41 million) into the Wheeled Armored Vehicle (Improved) project.
Trials of the prototype developed by Komatsu Limited will continue until 2019, after which mass production is likely to begin.
READ MORE: Japan scrambles jets as Chinese warplanes fly near Okinawa
According to Defense News, Japan plans to use the new armored vehicles in peacekeeping missions and what it calls "counter island invasion" scenarios in view of territorial disputes with Beijing in the East China Sea.
You can share this story on social media: