'Without borders': Tens of thousands rally in Milan to support migrant rights (PHOTOS, VIDEO)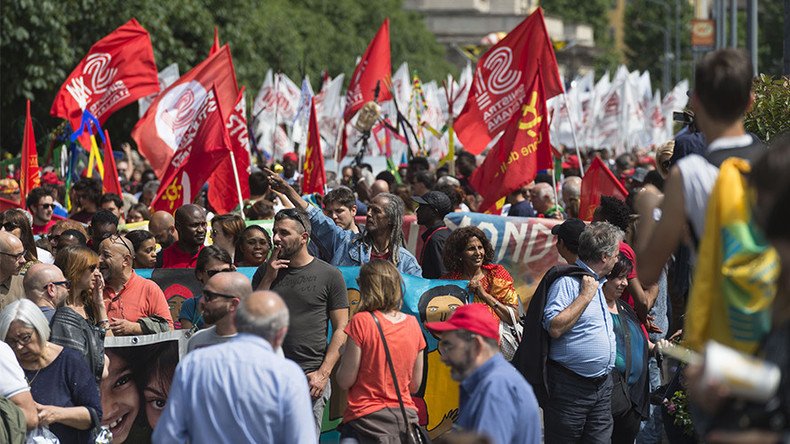 Tens of thousands took to the streets of Milan to show their support for migrant rights, local media report. "No one is illegal" and "Without borders" were the main slogans of the march.
The demonstration, dubbed "20 May. Without borders" was held in central Milan on Saturday.
The organizers of the rally promised that it would be "a mobilization full of hope" – in particular, "the hope of those who believe in the value of respect for cultural and ethnic differences."
"A wind of intolerance is defeating us. [We] need to strengthen a migrant reception system based on the involvement of all communities and institutions," their statement said.
Around 100,000 joined the demonstration, local media report, citing the organizers. Police, however, have not released any official data on the turnout.
READ MORE: Germany and Italy want to take control of Libya-Niger border to stem flow of migrants
The protesters held banners saying, "Together without borders" and "No person is illegal."
"Who was born in Italy, studied in Italy, is Italian. It's time for Europe to become more equitable and inclusive," Pierfrancesco Majorino, the Democratic Party's regional councilor for social policy and one of the organizers of the event, declared from the stage, as cited by ANSA news agency.
Milan Mayor Giuseppe Sala, along with officials from the city administration, also joined in.
"I want to be a builder of bridges, not borders. We will never turn the other way and will continue to be a supportive city," he later wrote on Facebook.
According to Eurostat, Italy had the highest number of people acquiring citizenship of an EU member state in 2015, at 178 thousand. It was followed by the UK, Spain, France, and Germany.
The country received over 123,000 asylum applications in 2016, according to data from the interior ministry, released by asylumineurope.org.
You can share this story on social media: