Right-wing protesters try to 'raid' German Justice Ministry over hate speech bill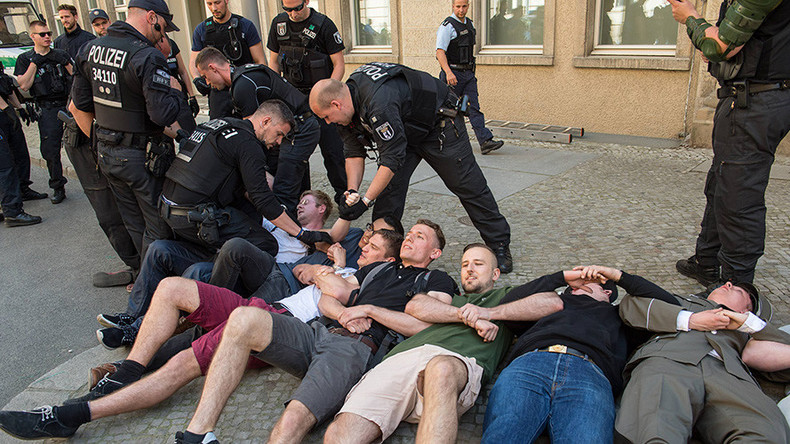 Members of a German right-wing movement took a 10-meter-long ladder and tried to climb onto the roof of the Justice Ministry in Berlin on Friday, also throwing pyrotechnics, in protest over a proposed law designed to fight hate speech on social media.
Chaos erupted when a van rushed through Mohren street, where the Ministry is located, narrowly missing a policeman, German daily Die Welt reported. Moments later, a group of around 50 activists from the Identitarian Movement (Identitäre Bewegung) gathered in front of the building chanting "Maas [Minister of Justice Heiko Maas] should go," and "Fortress Europe, close the borders."
Several protesters then grabbed a ladder from the van and attempted to make their way into the building. Police arrested one person for violating assembly laws.
"It was very turbulent," the police chief told the newspaper.
A group of 20 demonstrators later staged a sit-in protest outside the barricaded ministry against "prohibition of opinion," Die Welt reported.
The movement denounced they in fact attempted to storm the Ministry, saying in a tweet the action was merely a "satirical street protest."
Meanwhile, on the other side of the road, a spontaneous counter-Nazi protest began. Humboldt University students held banners that read: "Nazis out" and "Against hatred and agitation."
The Identitarian Movement, which has around 500 members, promotes "traditional national values" and is also strongly opposed to illegal immigration into Europe. The movement said their Friday protest targeted Justice Minister Heiko Maas and his proposed law, which received a first reading on Friday, designed to force social media platforms to quickly remove unlawful, offensive comments.
"Justice Minister Heiko Maas is dissatisfied with the already existing censorship on Facebook and Twitter, and would now force these companies to take even more rigorous action against what the German government does not want to see on social networks," the group said in a statement.
The Identitarians last made headlines in August when they climbed the landmark Brandenburg Gate, hanging a banner on the monument reading "Secure borders, secure future."
The anti-immigrant movement is monitored by domestic intelligence agency BfV for becoming increasingly radical and possibly breaching Germany's laws on xenophobia.
"There are many indications of contacts and links of the Identitarians with right-wing extremist persons or groups, allowing us to assume that there is a right-wing extremist influence," BfV President Hans-Georg Maaßen told Funke Media Group newspapers in March.
Last month, the German government approved a new bill on combating hate speech and fake news, under which social networks could face hefty fines if they fail to remove offensive content promptly.
Critics denounced the bill as a violation of free speech. The bill, introduced by Maas, is aimed at forcing social network giants such as Facebook or Twitter to take more responsibility for the content posted by users and to make it compliant with German law.
The proposed legislation says that "openly offensive" content should be deleted by social networks within 24 hours after being reported by users, while content whose nature is not clearly offensive should be examined and removed within a week if its illegality is confirmed.
"Social-network providers are responsible when their platforms are misused to propagate hate crimes and fake news," he wrote in an email to Bloomberg.
In March, the German parliament adopted an amendment making it easier to ramp up video surveillance in public places such as shopping centers and stadiums after a spike in terrorist attacks last year.
Critics say the new amendment creates conditions for "unprovoked and unfounded mass surveillance" that is "questionable" in terms of its compliance with the German Constitution, Konstantin von Notz, an MP from the Green Party, told German news blog website Netzpolitik.org, adding that the vague wording makes the new amendment a "free ride ticket" for the authorities.