'No noble end' can justify destroying human embryos – Pope Francis
Published time: 19 May, 2017 01:43
Edited time: 19 May, 2017 08:44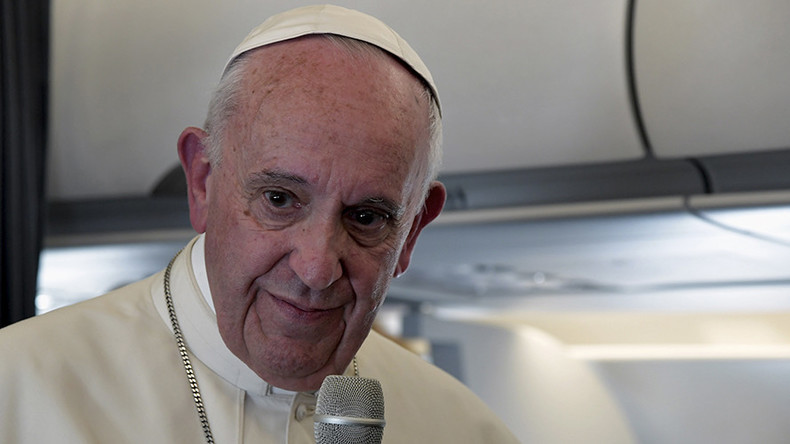 Pope Francis has acknowledged the scientific research on genetic diseases, but stressed that destroying human embryos is unjustifiable. The controversial topic was brought up at an event aimed at raising awareness about an incurable genetic disorder.
"We know that no end, even a noble one like the expectation of a benefit for science, for other human beings or for society, can justify the destruction of human embryos," the Pope said on Thursday at the Papal audience with families of those affected by Huntington's disease.
"I encourage you to carry out [experiments] in ways that do not contribute to nourishing the 'throwaway culture' that sometimes creeps into the world of scientific research," Francis added.
Thousands of people, including 150 suffering from Huntington's, traveled to the Vatican to see the Pope, who personally greeted each of the affected people. Huntington's disease is a genetic disorder, which makes the brain cells die, resulting in personality changes, mood swings, involuntary movements, unsteady gait and slurred speech.
With some countries being less affected by Huntington's, the fatal gene is 1,000 more prevalent in South America, where a social stigma still persists, leading to the isolation of the affected.
The Catholic Church is not the only branch of Christianity that has been vocally opposed to tampering with human embryos. The Russian Orthodox Church has been recently pushing for a criminalization of abortions in Russia, while some MPs have drafted bills limiting the abortion options for women, none of which have so far passed. At the same time, in the predominantly Catholic Republic of Ireland, where abortion is illegal unless it happens as part of the medical intervention to save a mother's life, thousands have been demanding to decriminalize abortion in the view of tragic and controversial cases resulting from the denial of medical assistance due to the law.