Warship, snipers & troops: Unprecedented security as star-studded Cannes film festival begins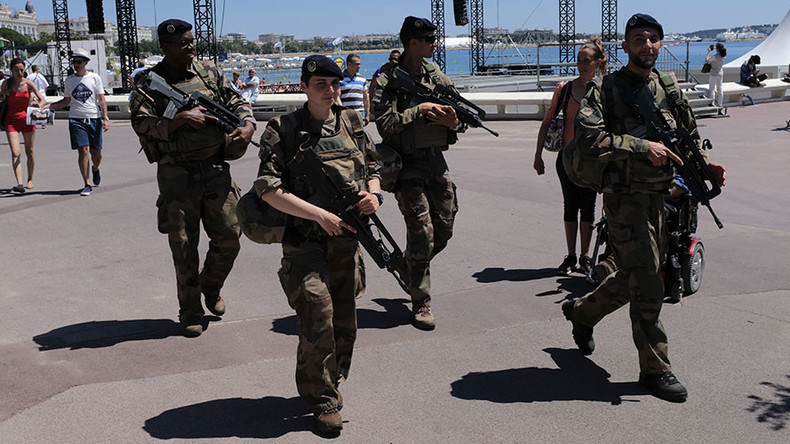 After last year's blood-chilling Nice attack, French authorities are paying extra attention to security on the Riviera: special flower pot barriers, security gates, and an unheard of police presence are on order as the Cannes Film Festival kicks off.
Concrete barriers in the shape of giant flower pots – 400-strong 'flower power', as the media has dubbed them – have been placed all over the city to prevent an assault similar to the Nice truck attack that left over 80 people dead.
In addition, barriers similar to airport security tools – in particular, 160 meters of spiked chains – have appeared in the French city.
Snipers have taken up positions above the key festival venues, while an unprecedented number of police and military personnel have been deployed in the area as well. A French Navy warship, the frigate Commandant Bouan, is even at anchor off Cannes' beach.
Police weapons have seen an upgrade, too: officers will now be carrying new 9mm semi-automatic handguns capable of holding 17 rounds.
An anti-drone system is also in place for the festival, and airspace has been restricted above Cannes' airport, a few media outlets are reporting, citing a press conference that included key city figures, including Mayor David Lisnard, Alpes-Maritimes Regional Governor Georges-Francois Leclerc, and festival president Pierre Lescure.
"I think the security will be part of the festival – it's inescapable. It is like the US, for example. With the threat of an attack, there is a lot of security, and that is the price we pay," Lisnard told the Hollywood Reporter.
"There is a circle of security around Cannes, with the Palais at the heart," Leclerc said, as cited by THR. Access to the city will be limited, and the security perimeter will be getting tighter.
Extensive bag searches seem to be required, as well, with some people already posting photos of massive queues in front of festival venues.
According to a high-ranking regional security official, Patrick Mairesse, the aim was to be as "invisible as possible, to cause as little nuisance as possible – so the party can stay a party."
However, about 550 security cameras are still keeping an eye on things, Yves Daros, head of the municipal police, told Reuters.
All in all, Cannes will be "the safest festival of all that I had a chance of witnessing," a top local police officer who has seen 37 editions of the world-famous event told Le Monde.
READ MORE: Radicalized man detained near military base in France, ISIS flags found in car – prosecution sources
Cannes' population triples every year during the 12-day festival, rising to some 200,000 people.
France has been under a state of emergency since the November 2015 Paris attacks. In total, 239 lives have been lost to terrorist attacks across the country over the past 18 months.