'Enough is enough': Norway's trade unions vote to boycott Israel over Palestine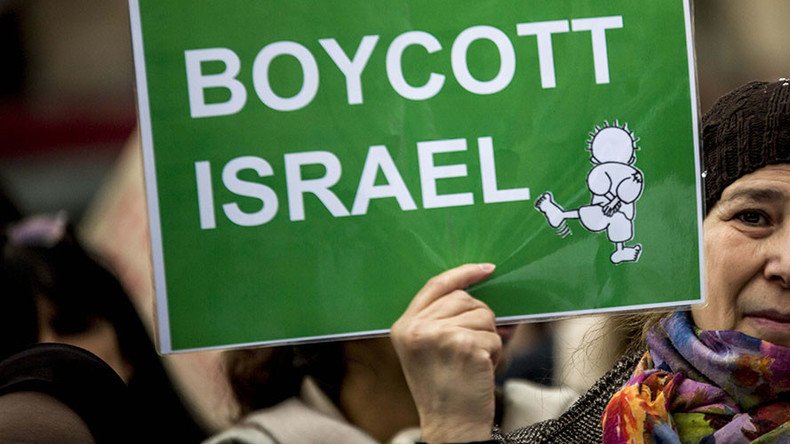 Norway's largest trade union body has voted in favor of economic, cultural, and academic boycott of Israel over its treatment of Palestinians. In response, Tel Aviv said that the union "placed itself shoulder to shoulder with the worst enemies of Israel."
The Norwegian Confederation of Trade Unions (LO) made the decision at the Congress on Friday, local media report. The Congress is the organization's highest authority and holds its meetings every four years.
The Confederation should launch an effort "to achieve an international economic, cultural and academic boycott of Israel," representatives at the gathering stated. It is not yet clear, however, how the proposed ban would be implemented.
The boycott would serve as an instrument for Palestine to be recognized as state, and to bring an end to Israel's occupation of Palestinian land and the Gaza blockade, Norwegian media report, citing the Congress.
The confederation went against the recommendations of its newly elected leader, Hans-Christian Gabrielsen, and voted 193 (some media report 197) to 117 in favor of boycotting Israel. Gabrielsen said that the decision would hurt Palestinian workers. "The situation for Palestinian workers is fragile. Many rely on work in Israel," he said.
Jan Olav Andersen, a member of the LO editorial committee who voted for the boycott, said "enough is enough."
"This year is the fiftieth year since Israel's violation of international law of occupation [of Palestine]... And diplomacy has not made the situation better," he said.
The LO has "a strong position in society and has set its stamp on society's development for more than 100 years," according to its website. The umbrella organization is affiliated with 24 unions with around 900,000 workers.
The country's foreign minister, Borge Brende, criticized the confederation's vote, saying the government "strongly opposes" the idea.
"We need more cooperation and dialogue, not boycott," he tweeted.
In the meantime, Israeli Ambassador to Norway Raphael Schutz said his country condemns the boycott against the Jewish State "in the strongest terms."
"This immoral resolution reflects deeply rooted attitudes of bias, discrimination and double standard towards the Jewish state," he wrote on his Facebook page.
According to the ambassador, "accepting the claim of return for millions of Palestinian refugees and their descendants, not to the Palestinian state but to Israel, means in reality the dissolution of the Jewish state."
"By adopting these positions LO placed itself shoulder to shoulder with the worst enemies of Israel," he added.
For decades, the Palestinian Territories – currently a non-member observer state at the United Nations – have been demanding that both the UN and the international community fully recognize their territories as an independent, sovereign nation.
At least 137 of the 193 UN member nations have recognized Palestine's independence so far. In December 2016, the UN Security Council passed a resolution demanding that Israel "immediately and completely cease all settlement activities" on occupied Palestinian territories, with the US abstaining. It was the first resolution passed by the United Nations Security Council on the Israeli-Palestinian conflict in nearly eight years.
You can share this story on social media: