Bomb manual found on German officer probed for plotting hate crime – report
Investigators probing the case of a German officer who is suspected of plotting a hate crime have discovered a handbook on making IEDs, Der Spiegel reports. Another army officer was suspended over an alleged far-right background amid the inquiry.
The scandal unfolding around 28-year-old Bundeswehr first lieutenant Franco Albrecht, who was allegedly plotting a hate crime attack, has taken a new turn, with investigators coming across an electronic data carrier with an 80-page manual from the 1990s on making simple bombs among his possessions.
The book has long been regarded as a standard guide among Islamist terrorists, according to German magazine Der Spiegel.
Read more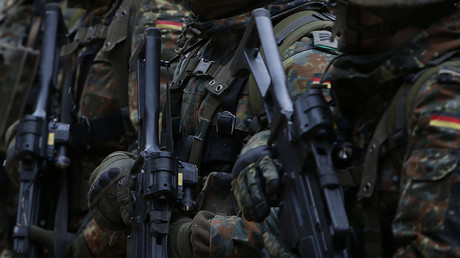 Investigators also found an electronic version of a work titled The Total Resistance, which is a guerrilla warfare manual published in 1957 by a Swiss Army officer to prepare the Swiss population for an occupation and used by left-wing terrorist groups in the 60s and 70s.
A secured data carrier also revealed hours of Franco Albrecht's reflections, according to investigators.
"Violence was not a last option, instead, it was described throughout [the recordings] as a probable means," they said.
Another officer, Ralf G. from Generalfeldmarschall Rommel barracks in Augustdorf, who may be linked to right-wing groups, has been suspended from service, WDR reports, citing a Bundeswehr spokesperson.
Ralf G. said that "a group of violent officers gathering weapons and ammunition to fight on the right side in the event of a civil war" exists in the Illkirch barracks, where Franco Albrecht was stationed.
A probable link between the two servicemen is currently being investigated.
On Tuesday, German authorities detained 27-year-old Maximilian T., who was stationed at the same Franco-German base near Strasbourg as Albrecht, and who might have been his accomplice. He was arrested in Kehl, Baden-Wurttemberg after intelligence confirmed there was a link between the two.
Albrecht was arrested in Hammelburg in late April on suspicion of plotting a racially-motivated attack, possibly involving the use of a fake refugee ID to later frame migrants for the attack.
Last week, numerous Nazi-era memorabilia, including awards, posters, and Wehrmacht helmets were found at the Franco-German brigade's 292nd infantry battalion barracks in the town of Donaueschingen. The discovery was made by defense ministry investigators. No relics, the possession of which would be illegal under German law, however, were found, a spokesperson for the ministry said.
Read more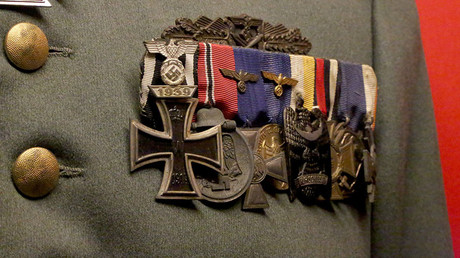 German Defense Minister Ursula von der Leyen lashed out at top military brass, telling ZDF TV that the army has an "attitude problem" and "clearly has a weakness of leadership on several levels."
In a separate statement, she added that the troops must bear "collective responsibility" for the alleged far-right network operating in the military. That remark infuriated military commanders, prompting over 100 generals and admirals to demand an apology.
Opposition party members, however, supported the minister. "Her stance on the Bundeswehr and the state of affairs there deserves respect," said Klaus Ernst, vice chairman of the Left Party's parliamentary faction, as cited by the newspaper. "She is the only post-war minister to speak bluntly about the [far-right] problem in the armed forces," he added.
Volker Wieker, the inspector general of the German Armed Forces, admitted that the military has long underestimated and even ignored far-right activities within the German Army.
The number of incidents in the armed forces linked to far-right extremists has "been decreasing for years and it has also reduced the level of sensitivity [to the issue] along with that," Wieker told Der Spiegel.
Specific evidence has not been taken seriously, Wieker said, adding that the military developed a pattern of turning a blind eye to far-right activities. "Mistakes have been made and we bear responsibility for them," the inspector general said.
He also claimed that all soldiers should "consider it their duty to suppress any breaches" of that sort in the future, as the military needs to "enhance its self-purifying capacity at all levels."