Khamenei promises to defend Iran's security with 'a slap in the face'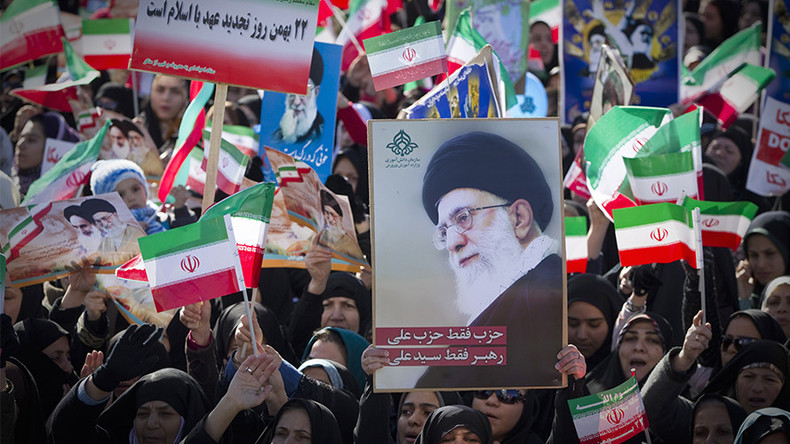 Iran's leader Ayatollah Khamenei has warned that anyone interfering in the upcoming elections will be dealt with harshly, amid reports of sporadic vandalizing of the campaign offices of the country's current president, Hassan Rouhani.
"Those who act against the country's security will definitely receive a slap in the face," Khamenei said.
"The security of the country is very important; the security of the country should be fully protected during the elections," he said. "Anyone who violates this, should know he will certainly be punished!" Khamenei said, speaking at the graduation ceremony for Iran's Revolutionary Guard force on Wednesday.
A Rouhani campaign office in Tehran was attacked midday today, says Ilna, a few days after a similar attack on one of his other offices. pic.twitter.com/UDSeL7QFht

— Saeed Kamali Dehghan (@SaeedKD) May 10, 2017
According to local media, cited by AP, one of Rouhani's campaign offices in Tehran had its windows smashed, and another office was also previously targeted.
Guardian journalist Saeed Kamali Dehghan tweeted a photograph of one of Rouhani's vandalized campaign offices. "A Rouhani campaign office in Tehran was attacked midday today, says Iranian Labour News Agency, a few days after a similar attack on one of his other offices," he wrote.
According to Iran Human Rights, staff at Rouhani's campaign headquarters in Gheytarieh, north Tehran, were prevented from campaigning two weeks in a row.
"Several people, some wearing police uniforms and others in civilian clothes, prevented us from leaving the building after the (second presidential) debate and would not allow us to go out into the city and campaign," an unnamed source said.
Iran's intelligence minister Mahmoud Alavi said his agents had disrupted a plot to cause disruptions, with young gangs reportedly being paid to fight each other, Al Araby reports.
Iranians will vote in presidential elections on May 19, choosing between five candidates including incumbent Rouhani and hardliner Ebrahim Raisi. Although Rouhani won by a large margin in 2013, Raisi is rumored to have Khamenei's support.
Should none of the candidates win 50 percent of the vote, there will be a runoff the following week.
Khamenei appeared to reference George Soros in his speech, alluding to a "vicious Zionist-American multibillionaire" who claimed that he could influence the affairs of sovereign nations.
The supreme leader went on to say the multibillionaire "was stupid enough to consider influencing the Islamic Republic—with such grandeur—in 2009. They hit themselves into a firm and strong wall of national willpower and determination."
Iran's disputed 2009 elections caused unrest after hardline president Mahmoud Ahmadinejad was re-elected. In the lead up to the elections, hardliners were concerned that Soros was working to influence elections.