Cholera outbreak in Yemen kills 34 people, may spiral out of control – WHO & MSF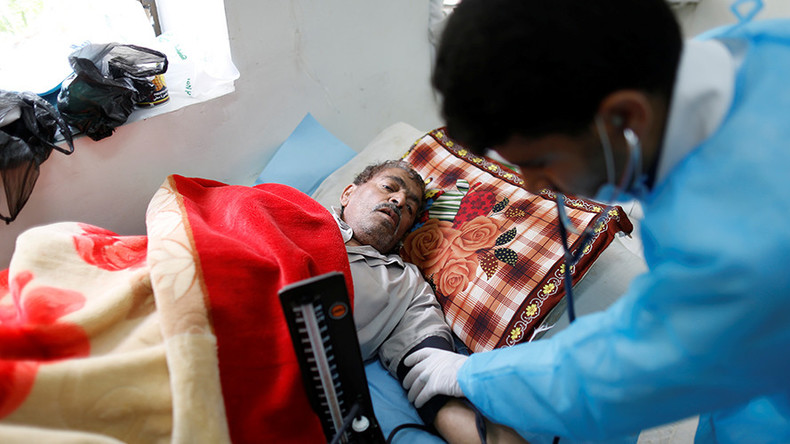 An acute outbreak of cholera-related cases in war-torn Yemen has claimed the lives of at least 34 people in the past two weeks with over 2,000 people still sick, WHO has said. Meanwhile, Doctors Without Borders has warned that the outbreak could spiral out of control.
"There have been 34 cholera-associated deaths and 2,022 cases of acute watery diarrhea in nine governorates, including Sana'a, during the period of April 27 to May 7," a World Health Organization (WHO) official told AFP.
Cholera, which causes severe dysentery and vomiting, can develop in areas with poor sanitation and is contracted by coming into contact with contaminated water sources.
Yemen, described by the UN as the poorest country in the Arab region, has been torn apart by a civil war and continues to bleed from a Saudi-led bombardment. It's been practically left without adequate infrastructure and health facilities as the conflict rages into its third year.
Without effective treatment, cholera-related illnesses can have a mortality rate of over 50 percent; as the infection of the small intestine by the bacterium 'Vibrio cholerae' can kill within hours if left untreated.
With the outbreak of cholera-related cases across the country, 310 cases of the infection have been registered in Sana'a alone by Yemen's public health ministry.
Yemen's capital, in particular, is bearing the brunt of the war. An ongoing strike by sanitation workers over unpaid wages has left the streets of Sana'a filled with garbage, AFP reported.
In addition, many of the city's sewage pipes remain clogged. Sewer water flooded the streets Tuesday as the city was hit by heavy rain.
Doctors Without Borders/Médecins Sans Frontières (MSF) on Tuesday warned that the outbreak of cholera in Yemen could spread further in the country. The NGO noted that the provinces of Amran, Hajjah, Al-Dhale', Taiz, and Ibb, have witnessed a "sharp increase" of patients in the past two weeks.
Overall, MSF teams have received more than 780 patients since March 30 at the cholera treatment centers in five hospitals and other medical facilities across the country.
"We are very concerned that the disease will continue to spread and become out of control," said Shinjiro Murata, MSF's head of mission in Yemen. "Humanitarian assistance... needs to be urgently scaled up to limit the spread of the outbreak and anticipate potential other ones."
This is the second wave of cholera-associated deaths in less than a year in Yemen. Since the start of the initial outbreak in October 2016, some 23,506 suspected cases of cholera, including 108 associated deaths, have been reported across the country up until March 2017.
Given the dramatic breakdown of the health care system and its infrastructure throughout Yemen, WHO estimates that 7.6 million people live in high-risk cholera outbreak areas.
With only 45 percent of health facilities functional across Yemen, the ability to respond to the outbreak is further compromised by the lack of equipment, medicines, and personnel.
In over two years since the Saudi-led military intervention, more than 10,200 people have been killed in Yemen. At least another 40,000 people have been wounded while more than three million Yemenis have been displaced.