Authenticity of ISIS video showing execution of 'Russian agent' denied by MoD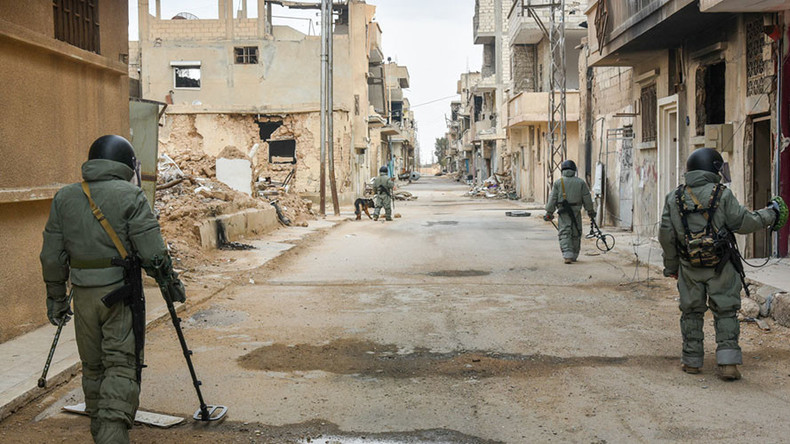 The Russian Ministry of Defense has denied the authenticity of a video purporting to show the execution of a Russian intelligence officer in Syria that was released by the propaganda wing of Islamic State (IS, formerly ISIS/ISIL).
The terrorist group released the 12-minute-long video through its media outlet, Furat Media, on Tuesday May 9, which is celebrated in Russia as the day of victory over Nazi Germany. According to the SITE Intelligence Group, which monitors online jihadi activity, it shows a man dressed in a black jumpsuit kneeling in a desert while urging other Russian agents to surrender before being beheaded by a bearded man in combat fatigues. The video also shows footage of what it claims to be the aftermath of Russian bombing raids.
The authenticity of the video has not been verified, and the Russian Ministry of Defense has denied reports that one of its servicemen has been killed.
"All members of the Russian armed forces in Syria are alive, in good health, and performing their duties in combating international terrorism as a part of their units," it said in a statement. "The actions of certain media outlets spreading information from international terrorist groups should be condemned," it added.
Nevertheless, the video's message is not something to be taken lightly, said Russian Senator Viktor Ozerov, who heads the Defense Committee of Russia's upper house of parliament.
"Of course, the Ministry of Defense does not disregard any reports that concern our servicemen, especially of such a character," Ozerov told Interfax. "A check will be carried out and its results will be made known," he said.
"In any case, even if it's a fake, it shouldn't be ignored," he added.
"If it happened, then there will be hell to pay," Ozerov warned.
The man, named in the video as Evgeny Petrenko, had also appeared in a three-minute IS propaganda clip in September of 2016. Wearing a black jumpsuit with a tag reading "infidel," he pleaded for President Vladimir Putin to do whatever it takes to free him from captivity. The video does not reveal when or how he was captured.
According to the Russian MoD, around 30 Russian servicemen have been killed during operations in Syria since September of 2015.