Russian military adviser killed by sniper fire in Syria – MoD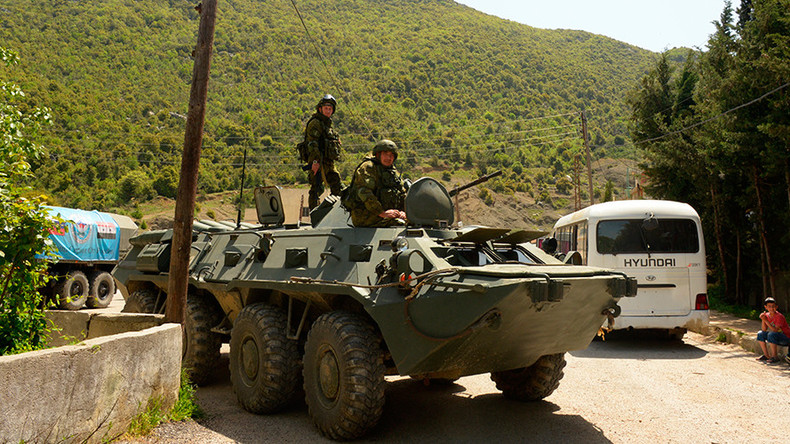 A Russian military adviser has been shot following a gun battle with militants in Syria, Interfax has reported, citing the Russian Defense Ministry.
The adviser, identified as Lt. Col. Alexey Buchelnikov, was in Syria training local military personnel when his death was announced Tuesday.
"Alexey Buchelnikov was in Syria as part of a group of Russian military advisers, carrying out his mission of training Syrian artillery unit personnel," Interfax quoted a defense ministry spokesperson as saying. "During a lesson on combat training, the Syrian unit came under fire from snipers."
Buchelnikov was fatally wounded in the crossfire.
"The high command has ordered to posthumously grant Aleksey Buchelnikov a state award," the spokesperson added.
On April 20, the Russian Defense Ministry reported the death of major Sergey Bordov, who was stationed in Syria, advising local army units on how to protect their towns from terrorist attack. Like Buchelnikov, Bordov's family will receive his medal posthumously.
On April 11, it was reported that two Russian military instructors had been killed and one soldier injured as they came under mortar shelling by a group of militants.
Earlier, the Russian Defense Ministry said that a Russian soldier had died near Palmyra, Syria, when Islamic State (IS, formerly ISIS/ISIL) militants tried to break through an area occupied by Syrian pro-government forces. A Russian major general also lost both legs and an eye when a radio-controlled bomb hit a convoy heading toward an airfield west of Palmyra. In February, four Russian servicemen were killed in another radio-controlled bomb blast that targeted a military convoy.
According to the Russian Defense Ministry, the number of Russian servicemen killed in Syria since September 2015, when Moscow launched its military operation there at the invitation of Damascus, was 27 before the latest two incidents, bringing the total up to 29.
You can share this story on social media: