Rebel warehouse with chem weapons hit by Syrian airstrike in Idlib – Russian MOD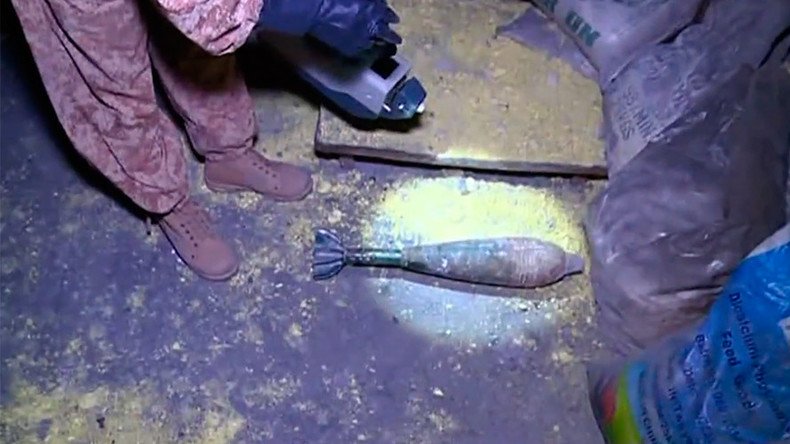 The Syrian Air Force has destroyed a warehouse in Idlib province where chemical weapons were being produced and stockpiled before being shipped to Iraq, Russia's Defense Ministry spokesman said.
The strike, which was launched midday Tuesday, targeted a major rebel ammunition depot east of the town of Khan Sheikhoun, Russian Defense Ministry spokesman Major-General Igor Konashenkov said in a statement.
The warehouse was used to both produce and store shells containing toxic gas, Konashenkov said. The shells were delivered to Iraq and repeatedly used there, he added, pointing out that both Iraq and international organizations have confirmed the use of such weapons by militants.
READ MORE: Intl monitoring body & West ignoring reports of 'chemical attack' in Mosul – Russian MoD
The same chemical munitions were used by militants in Aleppo, where Russian military experts took samples in late 2016, Konashenkov said.
The Defense Ministry has confirmed this information as "fully objective and verified," Konashenkov added.
According to the statement, Khan Sheikhoun civilians, who recently suffered a chemical attack, displayed identical symptoms to those of Aleppo chemical attack victims.
READ MORE: Syria hands over evidence of mustard gas attack by rebels on civilians to OPCW (VIDEO)
Hasan Haj Ali, commander of the Free Idlib Army rebel group, rejected Russia's version of the incident, saying the rebels had no military positions in the area.
"Everyone saw the plane while it was bombing with gas," he told Reuters.
"Likewise, all the civilians in the area know that there are no military positions there, or places for the manufacture [of weapons]. The various factions of the opposition are not capable of producing these substances," he added.
At least 58 people, including 11 children, reportedly died and scores were injured after a hospital in Khan Sheikhoun was targeted in a suspected gas attack on Tuesday morning, Reuters reported, citing medics and rebel activists. Soon after a missile allegedly hit the facility, people started showing symptoms of chemical poisoning, such as choking and fainting.
The victims were reportedly also seen with foam coming out of their mouths. While the major Syrian opposition group, the Syrian National Coalition, and other pro-rebel groups put the blame on the attack onto President Bashar Assad's government, the Syrian military dismissed all allegations as propaganda by the rebels.
"We deny completely the use of any chemical or toxic material in Khan Sheikhoun town today and the army has not used nor will use in any place or time, neither in past or in future," the Syrian army said in a statement.
The Russian military stated it did not carry out any airstrike in the area either.
However, EU foreign affairs chief Federica Mogherini, commenting on the incident, was quick to point to the Syrian government as a culprit, saying that it bears responsibility for the "awful" attack.
US Secretary of State Rex Tillerson echoed Mogherini, accusing the Syrian government of perpetrating the attack calling it "brutal, unabashed barbarism." He argued, that besides the Syrian authorities, Iran and Russia should also bear "moral responsibility" for it.
You can share this story on social media: