ISIS leader in Afghanistan killed during US special forces raid, military confirms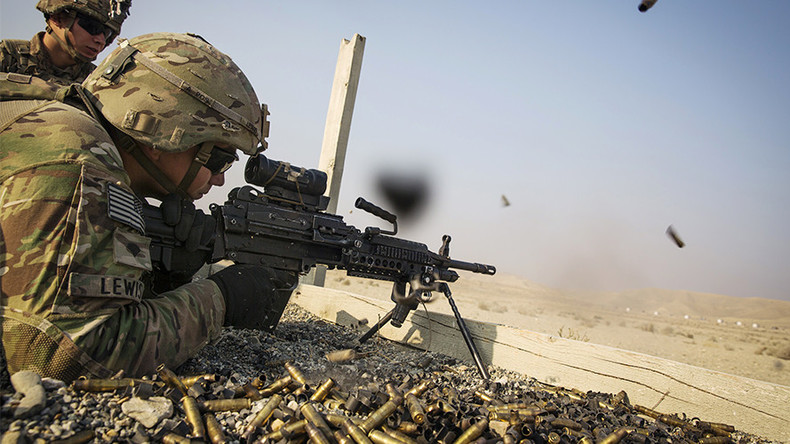 The leader of Islamic State's branch in Afghanistan has been killed in a joint raid by US and Afghan Special Forces in the eastern province of Nangarhar, American defense officials have confirmed.
Abdul Hasib, the head of Islamic State's (IS, formerly ISIS/ISIL) faction in Afghanistan, was killed on April 27, the US military confirmed on Sunday, according to Reuters. The operation to eliminate the high-profile terrorist leader involved some 50 US Army rangers and dozens of Afghan special forces troops.
Last year, Hasib was appointed as the leader of IS' faction in Afghanistan – otherwise known as Islamic State Khorasan (ISIS-K) – after his predecessor Hafiz Saeed Khan died in a US drone strike. Hasib is believed to have orchestrated several deadly terrorist attacks, including a high-profile assault on a military hospital in Kabul on March 8.
"This successful joint operation is another important step in our relentless campaign to defeat ISIS-K in 2017," General John Nicholson, commander of US forces in Afghanistan, said in Kabul on Sunday, as quoted by Reuters.
In April, US Central Command (CENTCOM) said Hasib might have been killed during a raid in Nangarhar, but there had been no confirmation of this prior to Sunday's announcement.
The CENTCOM statement said Army Rangers and Afghan commandos were inserted into the Mohmand valley by helicopter on April 26, shortly after the US dropped a GBU-43/B Massive Ordnance Air Blast bomb on the militants' positions.
Two Rangers were killed during the three-hour firefight, possibly by friendly fire from Afghan troops.
"US Special Operations forces killed several senior ISIS-K leaders along with about 35 ISIS operatives, which should significantly degrade ISIS-K operations and help to destroy the ISIS-K affiliate that's there," the statement added.
Islamic State Khorasan (ISIS-K), which has adopted the medieval name for a Central Asian region that includes Afghanistan, has been active since 2015. It has pledged allegiance to IS and is fighting the Taliban, as well as Afghan and US troops.
It is said to maintain contact with Islamic State, but operates with considerable independence.