France's Le Pen to reform National Front, create 'new political force'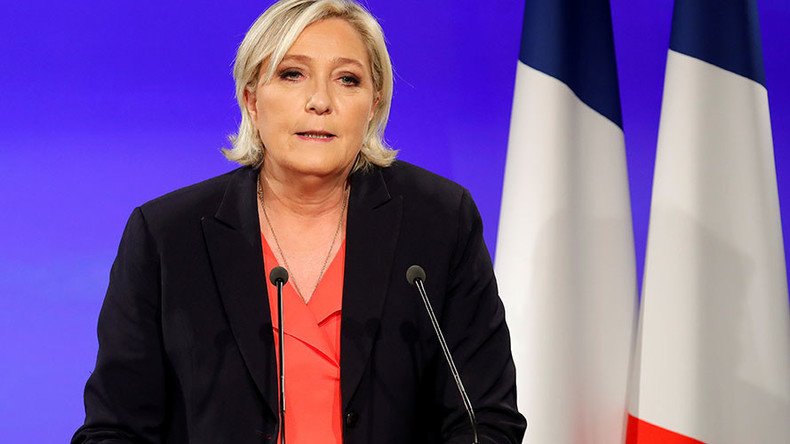 Marine Le Pen, leader of the French right-wing National Front (FN), said that her party needs a "deep" change become a broader "patriotic" political force after she lost the presidential election to centrist candidate Emmanuel Macron.
READ MORE: 'Very essence of establishment': Macron's reformer image questioned in view of govt & EU links
"The National Front... must deeply renew itself in order to rise to the historic opportunity and meet the French people's expectations," Le Pen said in a brief address to her supporters shortly after the first projections of the presidential elections' results were released.
"I will propose to start this deep transformation of our movement in order to make a new political force," she added, as cited by Reuters.
She went on to say that her result in the presidential elections is historic, despite the defeat, and added that her party would become the main opposition force to Macron. The National Front leader also said that the French political landscape is "split" between the "patriots" and the "globalists" and called on all French "patriots" to join her new political movement.
At the same time, she also said that she was immediately beginning a new election campaign for the parliamentary elections scheduled for the next few months.
Her words were echoed by other National front politicians. Florian Philippot, the party's deputy president, called Le Pen's result in the presidential elections "unprecedented" and praised her election campaign.
He also said that the National Front would oppose Macron. At the same time, he admitted that the party needs to change and he said that the new political movement would not be called the National Front. Philippot also called Macron's success "a victory for the financial oligarchy" in an interview to TF1 TV channel.
In the meantime, National Front founder and Marine Le Pen's father, Jean-Marie le Pen, said that his daughter's position on the euro and pensions had harmed her campaign. He also accused Philippot, who was one of le Pen's major advisors, of being responsible for Marine Le Pen's defeat.
You can share this story on social media: