N. Korea may use its 'mysterious islands' for missile launches – report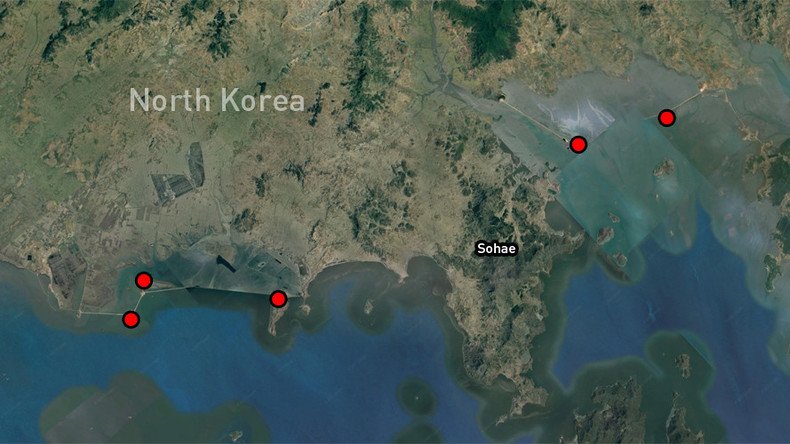 Pyongyang may use its islands located close to the country's Sohae rocket testing compound as missile launch sites, according to a Washington-based firm that provides geospatial and intelligence analysis.
Strategical Sentinel made their assumptions after evaluating satellite images of the islands, some of which are man-made, according to the group. The Google Earth images from December 2016 show "paved, rectangular lots" and wide roads – installations that could host ballistic missiles and transporter erector launchers, according to the firm's analysis, published in Diplomat magazine.
Although the photographs don't provide evidence of supportive infrastructure necessary for missile deployment, they could have been finished by now, since those pictures were taken in December 2016, the report says.
"Some of the islands look like offensive asset deployment sites — that is, ballistic missile launch pads" the Sentinel's research says, although adding that it would be not a "wise choice."
Instead, the images analyzed suggest that "anti-air missile sites would be a strategically wiser choice."
Despite the report claiming that the purpose of the islands and their facilities remain uncertain, it underscores that Sohae "has hosted many critical missile tests, including the 2012 and 2016 Kwangmyŏngsŏng satellite launches."
In total, "North Korea has built at least five military facilities on islands near Sohae."
The islands could also be fake to mislead North Korea's adversaries, the report alleges. However, the authors don't exclude that the facilities could serve agricultural or other civilian purposes, as part of a land reclamation project.
The report comes amidst rising tensions between Washington and Pyongyang, prompting the Chinese government to call for the "relevant parties to remain calm and stop irritating each other." North Korea has allegedly carried out three missile tests over past two months, all described as failed by Washington.
The US has recently beefed up its activities in the region, with the US supersonic B-1 Lancer bombers staging joint drills with South Korea and Japan on Monday.
This followed the sides exchanging threats, with US Vice President Mike Pence warning Pyongyang of an "overwhelming and effective American response" to "any use of conventional or nuclear weapons." In response, North Korea pledged to reduce the US to ashes in a "super-mighty pre-emptive strike."
You can share this story on social media: