'Stop irritating each other': China calls for calm in N. Korea standoff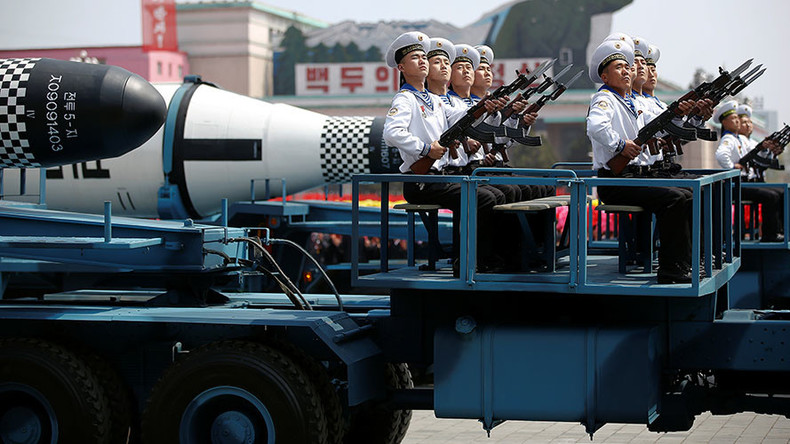 China has called for all sides in the North Korean standoff to stay calm and "stop irritating each other." It comes just one day after Pyongyang said the US was pushing the region closer to a nuclear war.
Chinese Foreign Ministry spokesman Geng Shuang called the situation between the two sides "highly complex" and sensitive on Wednesday.
"The urgent task is to lower temperatures and resume talks," he told reporters.
"We again urge all relevant parties to remain calm and exercise restraint, stop irritating each other, work hard to create an atmosphere for contact and dialogue between all sides, and seek a return to the correct path of dialogue and negotiation as soon as possible," Geng said, as quoted by Reuters.
His statements came after reporters asked about two US Air Force supersonic B-1 Lancer bombers which flew across the Korean Peninsula in joint drills with South Korea and Japan earlier this week, and Pyongyang's subsequent response, in which state media accused the US of "reckless military provocation" which is pushing the region "closer to the brink of nuclear war."
Although Trump has previously criticized China for its relationship with Pyongyang, he recently praised Beijing for its efforts to "rein in the menace of North Korea," and has urged China to put pressure on North Korea as its main economic lifeline.
In an interview with CBS on Sunday, Trump said his relationship with China has already been acclaimed as being "something very special, something very different than we've ever had."
In a phone call between Trump and Chinese President Xi Jinping last month, Xi once again urged restraint from all sides of the conflict, while also stating that Beijing opposes North Korea's nuclear weapons program, CCTV reported at the time.
READ MORE: N. Korean ballistic missile fails minutes after launch – S. Korean & US militaries
As tensions continue to simmer between Washington and Pyongyang, Trump – who has stated that a "major, major conflict" could be a reality between the two sides – said the US "shouldn't be announcing all our moves."
"It is a chess game. I just don't want people to know what my thinking is," he told CBS on Sunday.
Meanwhile, Trump continues to remain in close contact with other leaders across the region, holding a phone call with Philippine President Rodrigo Duterte on Wednesday.
You can share this story on social media: