Police fire water cannon at anti-govt rally in Venezuela after pelted with smoke bombs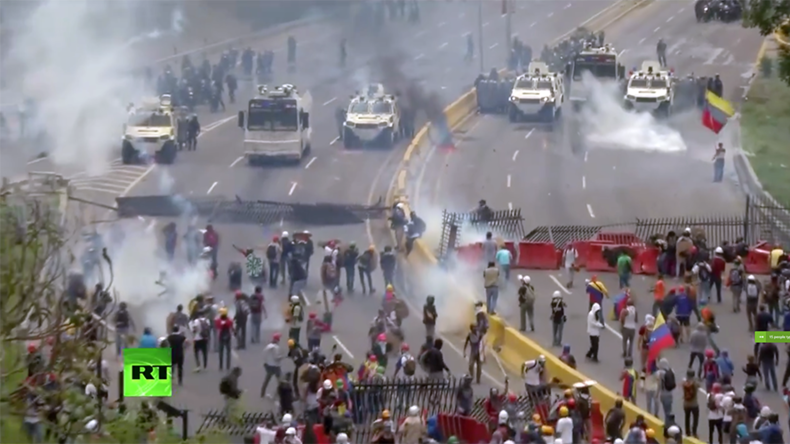 Police deployed water cannon during an anti-government rally in the capital, Caracas, after demonstrators hurled smoke bombs at law enforcement.
Demonstrators set up barricades on the Francisco Fajardo highway, disrupting the traffic flow and stopping the National Guard from advancing. They have been seen waving Venezuelan flags, while cordoned off by security forces.
Opposition supporters gathered on Wednesday to protest President Nicolas Maduro's decision to call a Constituent Assembly, which they claim is a loophole to avoid elections and stay in power.
"This constituent assembly seeks to impose a Cuban electoral model," said opposition lawmaker Jorge Millan, according to Reuters.
"We Venezuelans are not going to allow fraud," he added.
Maduro on his part maintains that the Constituent Assembly is an attempt to find a way out of the political turmoil sweeping the country.
"I convoke the original constituent power to achieve the peace needed by the Republic, defeat the fascist coup, and let the sovereign people impose peace, harmony and true national dialogue," the leader said in a televised address on Monday, May 1, the holiday celebrated around the world as International Workers' Day.
READ MORE: Opposition calls on Venezuelans to revolt as Maduro calls vote for a new 'constituent' assembly
The Constituent Assembly is expected to be a 500-member body, comprised largely of ordinary people, and designed to guide Venezuela out of the crisis and put an end to the ongoing violence.
Anti-government protests have been going on across the country since early April. At least 37 people were injured on the day Maduro announced his decision to convene the assembly, according to Ramon Muchacho, the mayor of Chacao Municipality in Caracas.
In mid-April, Maduro blamed the United States for "financing and leading all the violent acts" in Venezuela, AP reported. The US government supports "neo-Nazi groups" who stand behind the violence, the president said.


You can share this story on social media: