Erdogan threatens to say 'goodbye' to EU as official warns Turkey won't be joining bloc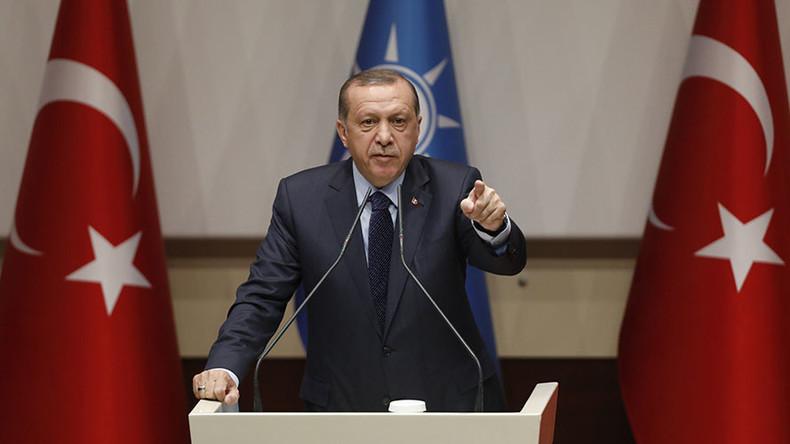 Turkey will say goodbye to the EU if it refuses to "open new chapters" on its accession into the bloc, President Erdogan has stated. It comes after an EU commissioner said Ankara's actions and policies have made it impossible to meet EU criteria to join.
"From now on there is no option other than opening the chapters you have not yet opened. If you do not open [them], goodbye," Turkish President Recep Tayyip Erdogan said at a Tuesday ceremony to mark his return to the ruling AK Party, as quoted by Reuters.
His comments came after European Commissioner Johannes Hahn, who oversees EU membership bids, told Reuters that Turkey's limits on press freedom, mass jailing, and diminishing civil rights have made it almost impossible for Turkey to meet EU joining criteria.
Hahn said on Tuesday that EU rules are "not negotiable," and that the bloc will not put aside the "human rights situation" in discussions with Ankara.
"Everybody's clear that, currently at least, Turkey is moving away from a European perspective," Hahn said.
"There is no version of Turkish democracy. There is only democracy. Turkish people have the same rights to live in freedom as Europeans do."
He stated that the focus of the relationship between the bloc and Ankara "has to be something else… we have to see what could be done in the future, to see if we can restart some kind of cooperation."
Ankara and Brussels have been in talks for years over the possibility of Turkey joining the EU. The already slow negotiations were stalled even further following Erdogan's sweeping crackdown after a failed coup in July 2016.
Relations have since become even more strained following last month's referendum results, which allow Erdogan to be granted sweeping powers when it comes to national matters of legislation, finance, appointments, and civil society. The European Commission has called for an investigation into alleged voting irregularities.
Last year, Ankara agreed to a landmark migrant deal with the bloc which would see it take back all illegal migrants landing in Greece from its shores, in exchange for accelerated talks on becoming a member of the bloc and billions in refugee assistance from the EU.
Turkey also rallied for visa-free travel to Europe's Schengen zone as part of the deal, but was told by the EU that a list of 72 conditions must first be met – a key sticking point of which is Turkey's strict anti-terrorism laws, which Europe has said must be loosened in order for that agreement to go ahead.
Erdogan has repeatedly threatened to destroy the deal if Brussels does not hold up its end of the agreement, a move which could see Europe once again struggling to deal with an overwhelming influx of refugees.
You can share this story on social media: