Russia never interferes in others' internal politics, yet feels such attempts from outside – Putin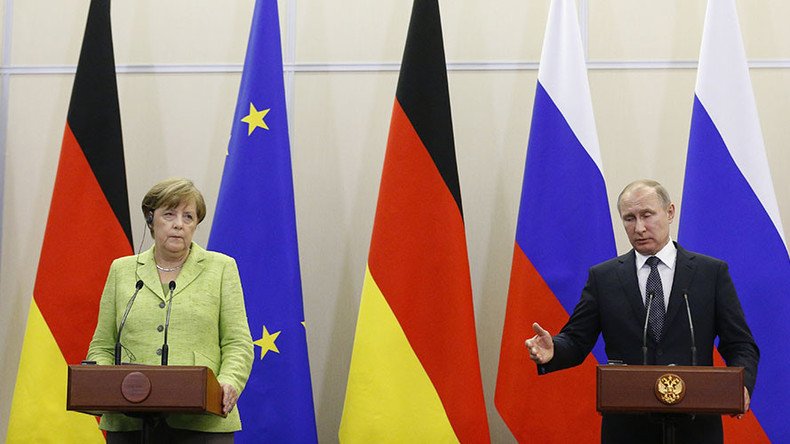 Russia's President Vladimir Putin says Russia has never interfered in other countries' political issues, though there have been such attempts towards Russia, he said at a joint press conference with German Chancellor Angela Merkel in Sochi.
Russian President Vladimir Putin has held talks with German Chancellor Angela Merkel on Tuesday to discuss key international issues such as the Syrian conflict, the situation in Ukraine and battling terrorism, as well as bilateral ties between Moscow and Berlin.
Putin called such attempts "futile" after a German reporter asked whether Chancellor Angela Merkel was worried about the possibility of Russia meddling in her country's upcoming elections, as it allegedly did during the US elections.
"You have referred to an example that hasn't been proven by anyone or anything. These are merely rumors that are being used in US political in-fighting," Putin said.
"We never interfere, either in political life or in the political processes of other countries. We would also like that no one would interfere in Russia's political life," Putin said.
"Unfortunately, what we see is precisely the opposite. We have seen attempts to interfere in internal political processes in Russia for a very long time," he noted, adding that this happens through various NGOs and even directly.
"Realizing how harmful and futile these efforts are, we have never even thought of meddling in the political processes in other countries," Putin said.
READ MORE: German intel finds no proof of Russian 'disinformation ops' against Berlin – govt source
Merkel said that she is "not an anxious person."
"We know cyber criminality is an international challenge... but we expect that the German election will go ahead unharmed and that we have enough different positions to tackle a range of topics," she added.
Ukraine
Putin and Merkel are united in the view that there is no need for new agreements aimed at stabilizing the situation in Ukraine, since it would be more practical to wait for results to be achieved by the already-existing Minsk deal and the Normandy format.
READ MORE: 'Stronger engagement' of both sides is key to solving Ukraine crisis – OSCE chief to RT
"I cannot but agree with Madame Chancellor that we can't come up with anything new, with an alternative, and we don't need to be thinking of anything but the Normandy format and the Minsk agreements – as you can't plan anything new while you have not achieved results on previous ones," Putin said.
Syria
Speaking about the conflict in Syria, President Putin noted that Russia is planning to remain in contact with the US.
"It's clear that it's not possible to deal with these problems efficiently without the US. Thus, we're keeping and will keep in touch with our American partners and I hope we will reach agreement on joint steps in this very important and very sensitive issue for international relations today," he said.
READ MORE: 'No talk after Syria strike would've been detrimental to US & Russia' – US ex-commander Kirk Lippold
There are big problems within Syrian society and "our task is to create conditions to unite the people, to end the hostilities and mutual annihilation and to create the conditions for the political cooperation of all warring parties."
Civil rights
Putin has rejected accusations that Russian police use excessive force against protesters. He responded that Russian law enforcement officers do not disperse crowds with teargas and rubber batons, unlike their European colleagues.
"Our law enforcement and judicial bodies act within Russia's law and will keep doing so, maintaining order, discipline, but at the same time, respecting the right of Russian citizens to express their opinion in accordance with the law," he said.
Merkel also said she has asked President Putin to exert his influence to make sure the rights of gay people in Russia's Chechen Republic are observed.
"We talked about that fact that I received very negative reports on what is going on with homosexuals in Chechnya and asked Mr President to exert his influence and make sure that minorities' rights are respected there," she said.
Earlier there were reports in the Russian media of gay men being detained in Chechnya. However, the republic's leader, Ramzan Kadyrov, refuted all the allegations during a meeting with Putin in Moscow on April 19.
Kremlin spokesman Dmitry Peskov specified that Chancellor Merkel did not reproach Russia for an alleged crackdown on gay people in Chechnya, but merely took an interest in the situation in the republic.
"The president explained what is going on in the republic, he spoke about life there. This was not a matter of reproaching, it couldn't have sounded like any reproach," Peskov said.
"[The chancellor] showed interest in a certain subject and Putin as always was ready to give a thorough explanation," Peskov told journalists after the press conference.
Putin and Merkel have also discussed the forthcoming G20 summit, which will be held in Hamburg in July.
The pair is scheduled to hold two rounds of talks in the Black Sea resort of Sochi.
The last time Merkel visited Russia was on May 10, 2015, in connection with the Victory Day celebrations.
You can share this story on social media: